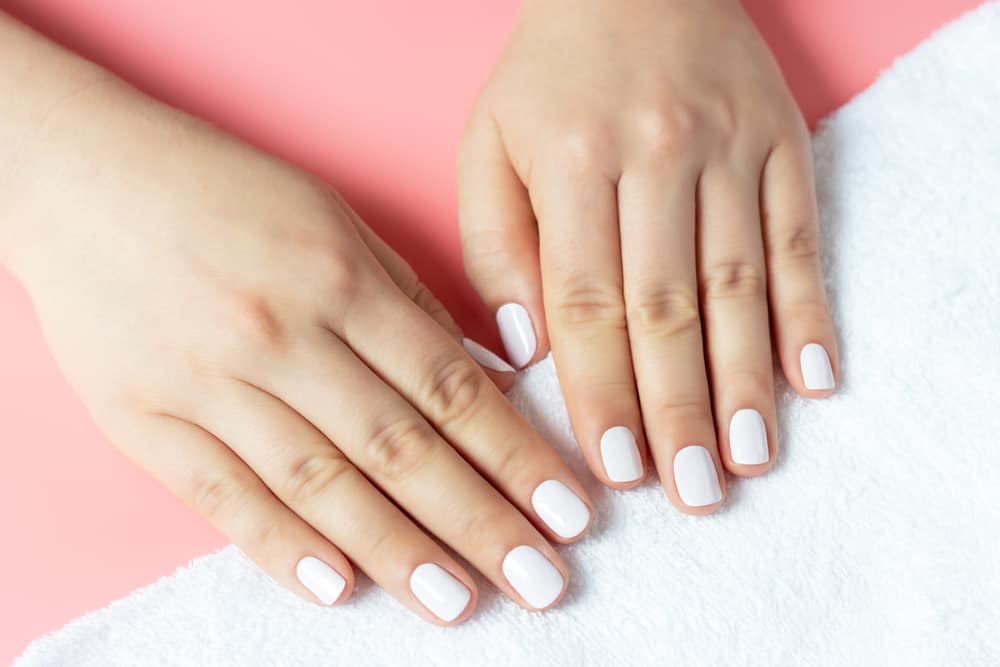 When the days of summer come upon us, the white shoes, white clothes, and even white nail polish get broken out to wear.
However, what happens when your pretty polish goes yucky yellow?
Here are some tips to make your white nail polish stay as white as possible for as long as you can.
How Do I Keep My White Nail Polish From Turning Yellow?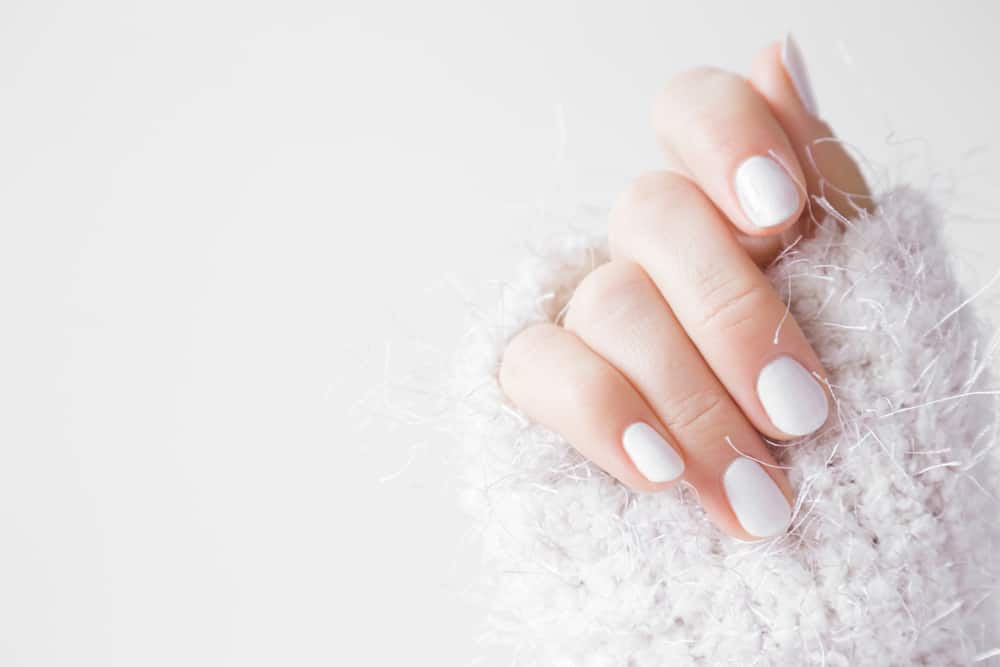 You can keep your white nail polish from turning yellow by removing the stains from gel nail polish with buffing, washing, or using chemicals to remove the staining.
In this case, you'll use the recommended chemicals for your type of nail.
If you have natural nails and use regular nail polish, you must use the appropriate topcoat that is formulated to prevent yellowing.
Consulting a nail technician and having white nail polish or gels put on professionally would be the best move.
Why Does My White Nail Polish Turn Yellow?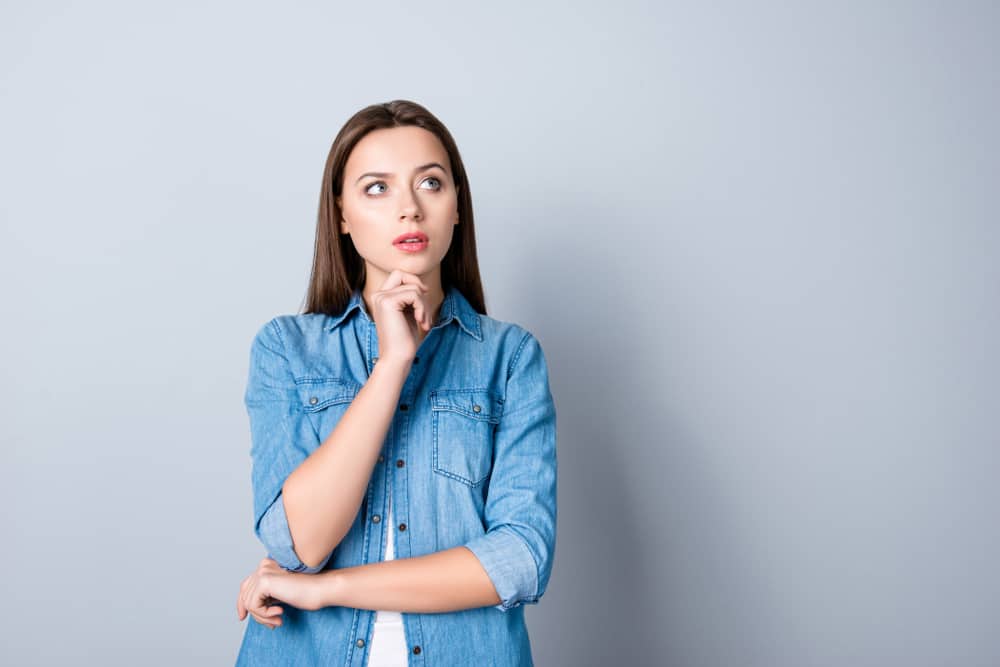 Your white nail polish could turn yellow due to it being contaminated over time by darker nail polish.
It is suggested that you use a separate topcoat that stays reserved for the application of lighter color.
Yellowing happens with any light color.
It's just more noticeable with white.
It happens with regular nail polish or natural nails, but it's much more common with gels, acrylics, and dip powders.
Let's address those two options and what to do about it.
You can use the same methods on the natural nail that are explained here for gels and dips and acrylics.
Yellow nails are common even for nail technicians who will see this in their own work from time to time.
It can be a frustrating and persistent issue.
The first thing you need to do is make sure that your nails are 100% clean of old polish.
This is where it gets tricky.
You won't always be able to accomplish this with one session of nail polish removal.
There can be a very thin layer of tint, even though you can't see the actual color anymore.
The good news is you don't have to strain to try and see it.
You can remedy this by doing one to three sessions of nail polish removal.
If you can, you could soak your nails in acetone for a few minutes to get all the lacquer residue off the nail.
Now, you can be sure that you are applying the new base coat over a completely naked nail.
Does My Base Coat Cause Yellowing?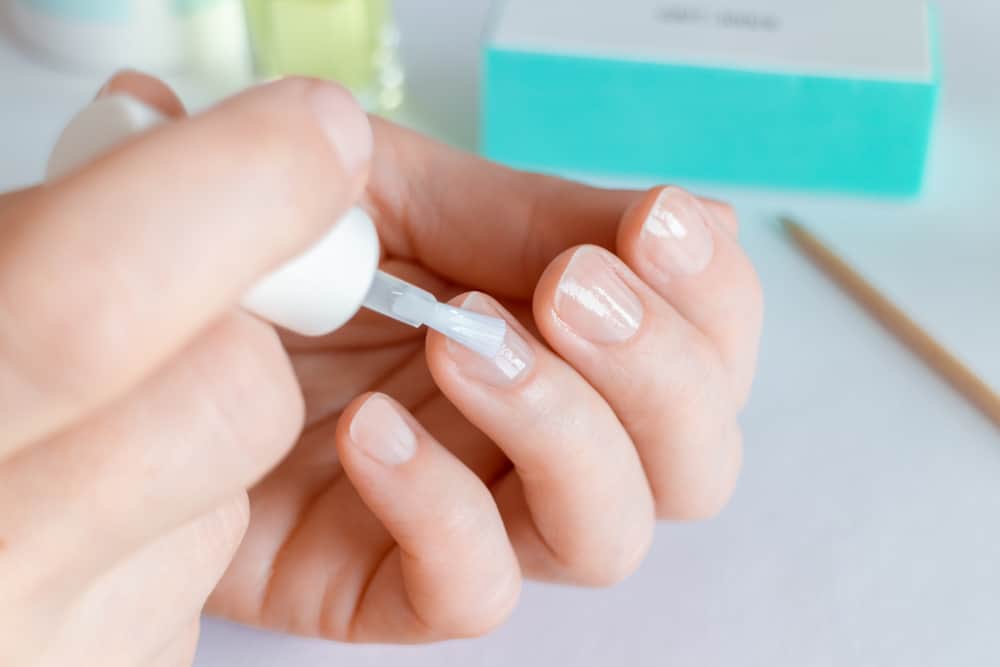 Yes, the base coat can cause yellowing.
The next step is to use a higher-quality base coat.
Basecoat or topcoat, any clear coat can yellow on its own.
You may notice this when you use a clear coat on a naked nail.
After a few days to a week, it will begin to turn from a funny beige or eggshell color to a full-on yellow.
It looks a bit like a nicotine color.
This is the most common, and that just looks dirty.
This step is after the application of a high-quality base coat, let one coat dry completely.
Don't do more than one coat because more layers can also cause yellowing.
We must pay a lot of attention to the base coat because we forget that nail polish is porous.
Any tint or change in the tone or color will bleed through to the surface of the nail.
We have to make sure the base coat starts off pure.
Next, apply your white polish.
You can use this same advice for any light color.
Neons and pastels count in this, too, especially gels and dips.
Use a high-quality color.
Using a cheap dollar store or drugstore color is not going to give you the best results.
The suggestion here is a gel polish you can buy for a few dollars more.
If you use air drying gel nail polish, dry it completely and apply thin coats up to three times.
It is important to allow the polish to dry completely between coats.
If you are using gel or dip nails, then dry and cure completely between coats.
You can also use a buffer between coats only if they are completely dry.
Does My Topcoat Cause Yellowing?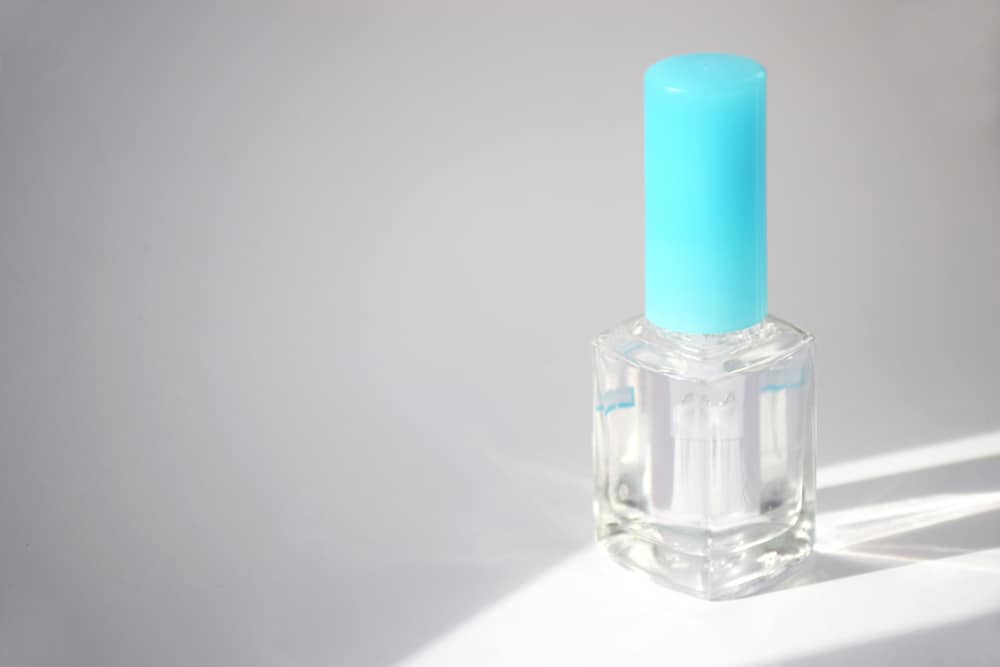 Yes, your topcoat causes yellowing, but at the last stage.
If you follow the best practices by using a high-quality topcoat and color while curing them correctly and using a separate topcoat for light colors and dark, you can defeat yellowing.
Apply a topcoat on regular nails.
Make sure it is a topcoat that is also high-quality and has never been used in a dark color or bright color before.
You only want two layers of topcoat with the first coat drying completely first.
If you have followed the protocol for all three coats completely, then you should not experience yellowing from the nail polish.
The aforementioned advice is mostly for natural nails and any nail treatment with which you may use a regular topcoat.
Now, let's address specifically gels, acrylics, and dip powder yellowing.
Does My Gel Powder Cause Yellowing?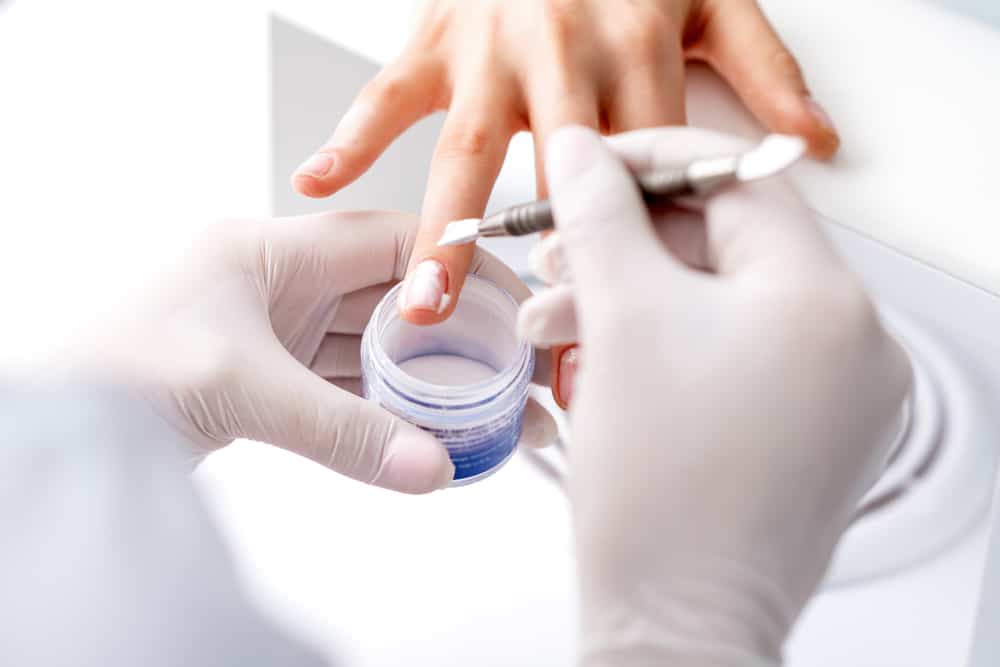 No, your gel powder won't just yellow in and of itself.
Yellowing is typically not caused by the powder or the fact that it's white or another light color.
The yellowing of gel powder is caused by substances that we expose them to or by some mistakes in the procedure.
The most common mistake in the application procedure that can cause yellowing is when the gel layers are not cured properly.
Let's first understand why this happens when we neglect to fully apply the gel layers properly.
We can either be newbies and do it ourselves at home, or we are in a rush.
Salon nails should never turn yellow due to an application error when you get them done professionally.
What mistakes can you be making while doing gels at home?
Gel must cure properly and completely under a UV or LED lamp.
The first lesson is to purchase the correct product and the proper equipment to use with it.
For instance, you buy a particular brand of gel polish top and base coat, and they recommend a specific UV or LED lamp, or they tell you it must be used with a UV lamp, and you use an LED thinking it's good enough.
It may not be, and for good reason.
Make sure you are using the recommended thickness of top, color, and base, and cure each layer separately and for the recommended time of each coat.
Don't rush.
Do your nails when you have sufficient time to complete each step and then some.
With these things, anything can happen, especially when you are new at it.
Gels are the easiest to apply and remove, but you must leave time for mistakes and corrections.
Take your time and learn from the process.
Yellowing is preventable.
What Can Turn My Gel Nails Yellow?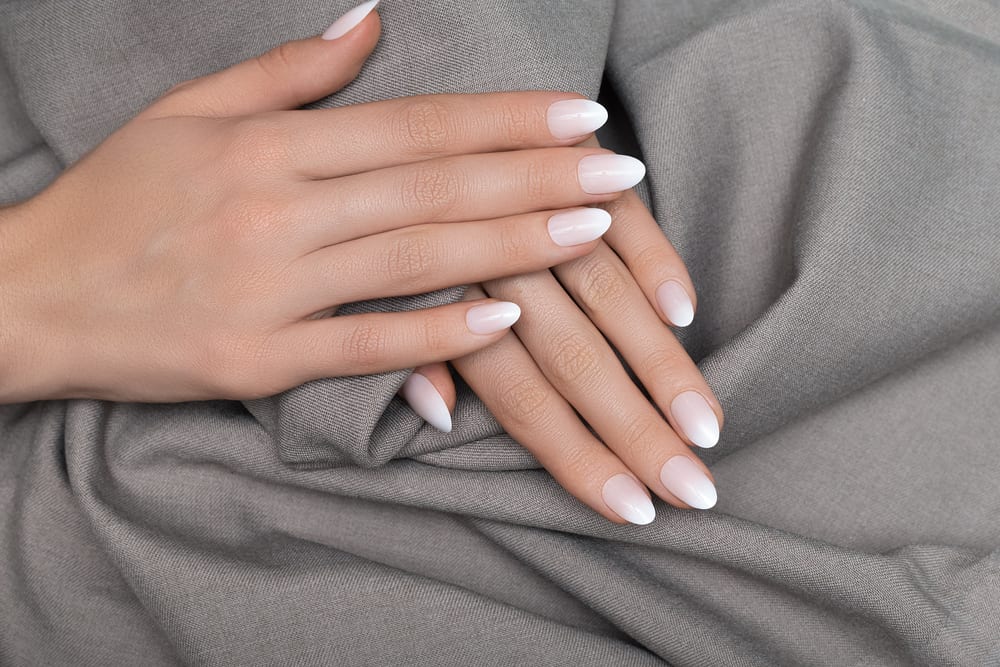 Common, everyday activities may turn your white or light-colored gel nails yellow.
It's important that you realize you need to change some of the routines you have to keep your white nails from yellowing.
Gloves become your friend when you have any type of artificial nail treatment and when you wear white polish on natural nails.
Cleaning chemicals like bleach, ammonia, and even dishwashing detergent can turn nails yellow.
It's imperative to use gloves and even be mindful of the soaps you are washing your hands with.
You may opt for a soap with natural oil that's light.
Hand sanitizer is also a culprit.
Will Dip Powder Turn My White Nails Yellow?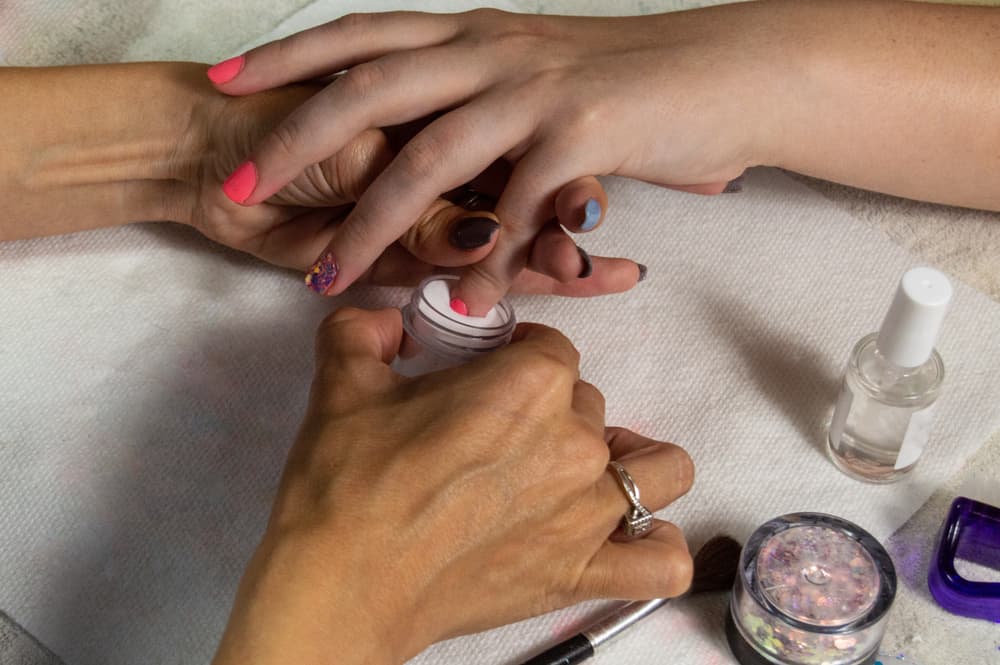 Yes, dip nails are porous.
This is because you are dipping the nails into a colored powder and then curing them, but they leave micro gaps in the surface, and that will let a lot of things in.
You can use an extra layer of topcoat and cure it well to try and avoid this problem, but it may not work 100% long-term.
There are many benefits of having dip powder nails.
This technique is versatile, less invasive to the natural nail, and can be applied and removed easily.
These nails are lighter than acrylics and gels.
They are great for one-time special events or if you want to give your natural nails a bit more time to breathe during nail wear.
You can remove them to allow the same between applications.
Gels are the next easiest to deal with and are healthier for the natural nail.
Acrylics are harsher and are listed last.
Will Acrylics Turn My White Nails Yellow?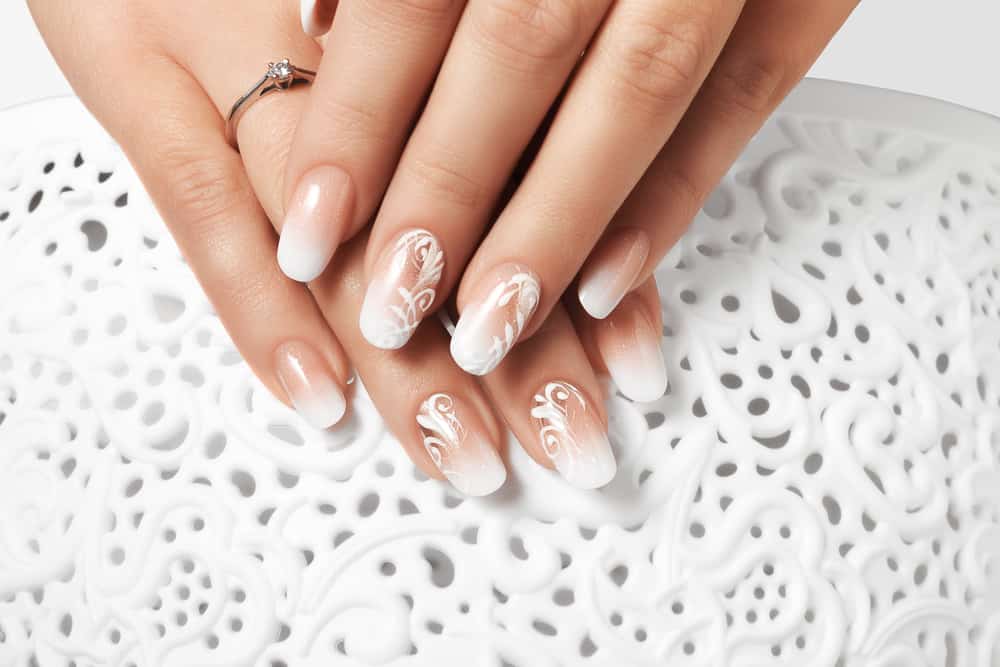 Yes, acrylics can turn yellow due to the topcoat quality and exposure to chemicals and other environmental elements.
Acrylics are the harshest of the false nail treatments available.
After all, they were the first ones out there, and many people are still quite loyal to them.
For white nails, you must use the same recommended procedure for the natural nails that are outlined in this article.
Your base coat, color, and topcoat should be of the highest quality.
You can still use gel polish that you can buy in a shop and cure it with a UV or LED lamp.
Make sure you still use gloves when doing any task that will expose your hands to dirt or chemicals.
Anything can affect acrylics.
Somehow things have a way of sticking to them and dulling the appearance.
The shine doesn't last without the aid of a gel product.
Acrylics were made to be durable and last a long time.
They are still fashion statements, but they have stiff competition on a lot of points, including white nail polish.
Will My Liquid Set Or Activator Turn My Nail Polish Yellow?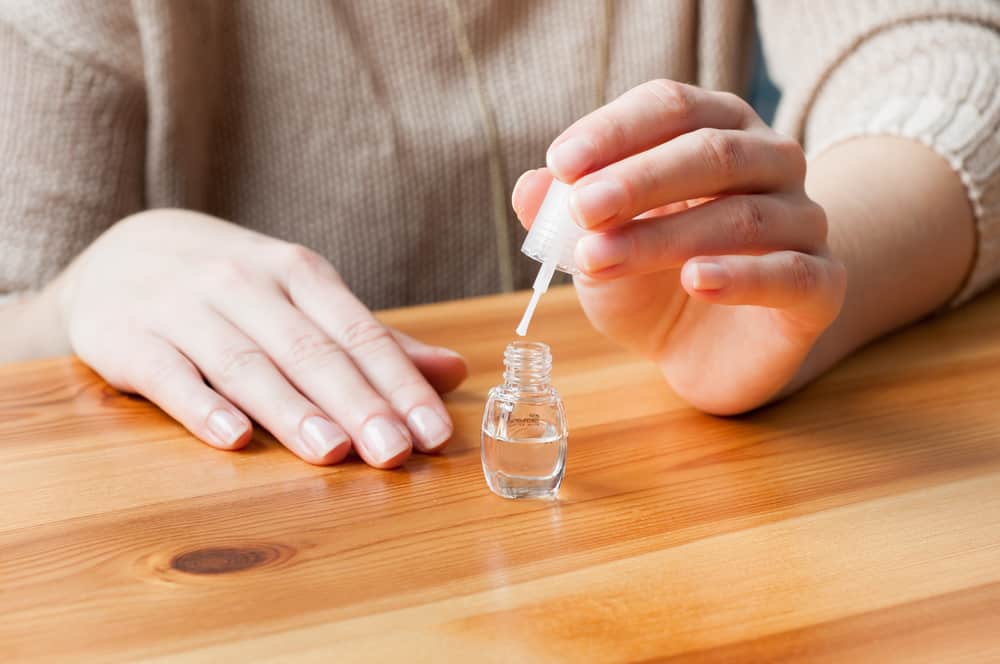 Yes, your liquid set or activator can turn your nails yellow under the specific condition that it's been used with another shade or has a tint in it.
For example, your nail activator already has an off-white or other tint.
Your activator and nail set are put together in one chemical composition for easy applying and setting.
It's basically a two-in-one product.
This can also cause white nail polish to turn yellow.
It may help to remember and be conscious of what you're using with white powder as it is pure and will be contaminated by anything.
Make sure your white powder stays white by using any product going underneath it or on top of it that has not been used with another color, even if you can't see a tint or color in the bottle or while applying it.
It's strongly suggested that you have a set of everything you need for your gel, dip, acrylic, or regular manicure in a separate, untouched set.
Use this set only for white manicures.
Other Tips To Keep Your White Nail From Turning Yellow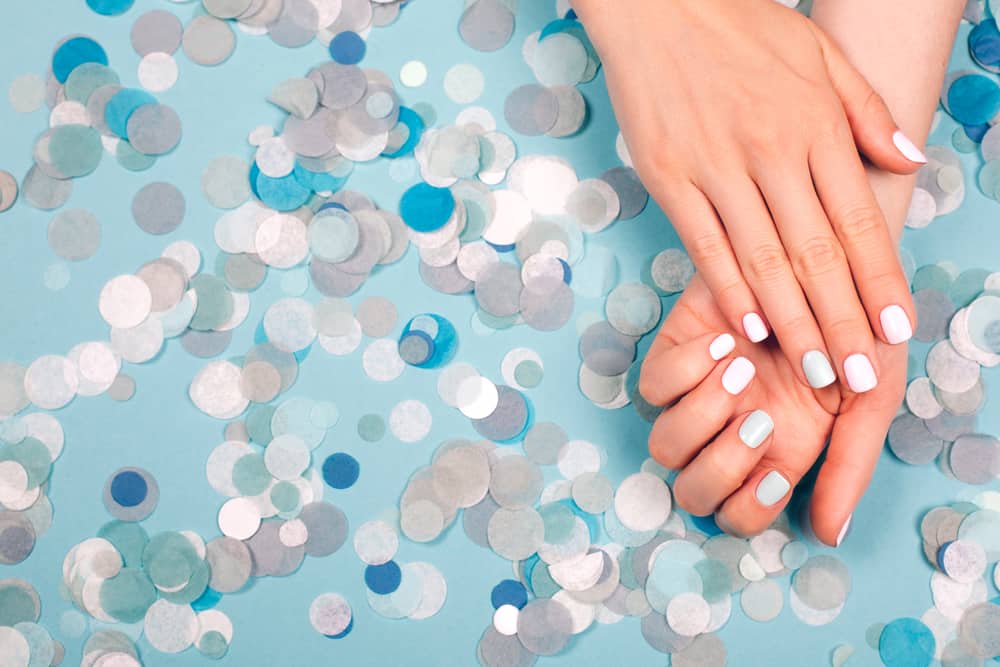 If you aren't fond of spending more money on white or pastel nails that you may only do occasionally, we suggest that you clean your brushes thoroughly with any high-quality brush cleaner on the market.
You can also buy disposable brushes and use those with all your sets so that you don't re-contaminate any of the liquid sets, base coats, powder, or color.
Inspect your nails often.
If you see that they are turning yellow slowly but surely, then you can use a smooth buffer to buff off the contaminant.
This will work fine if you are devoted to the nails looking white long-tern.
Do this especially if you work with chemicals a lot and can't wear gloves for whatever reason and if you smoke.
You can also refresh the color after buffing if you dip them into a fresh white powder.
Make sure you use the liquid set again because, otherwise, the powder can't bond to the nail.
Cure and then buff the nail again to shine.
Should I Go To A Nail Salon To Keep My White Nails White?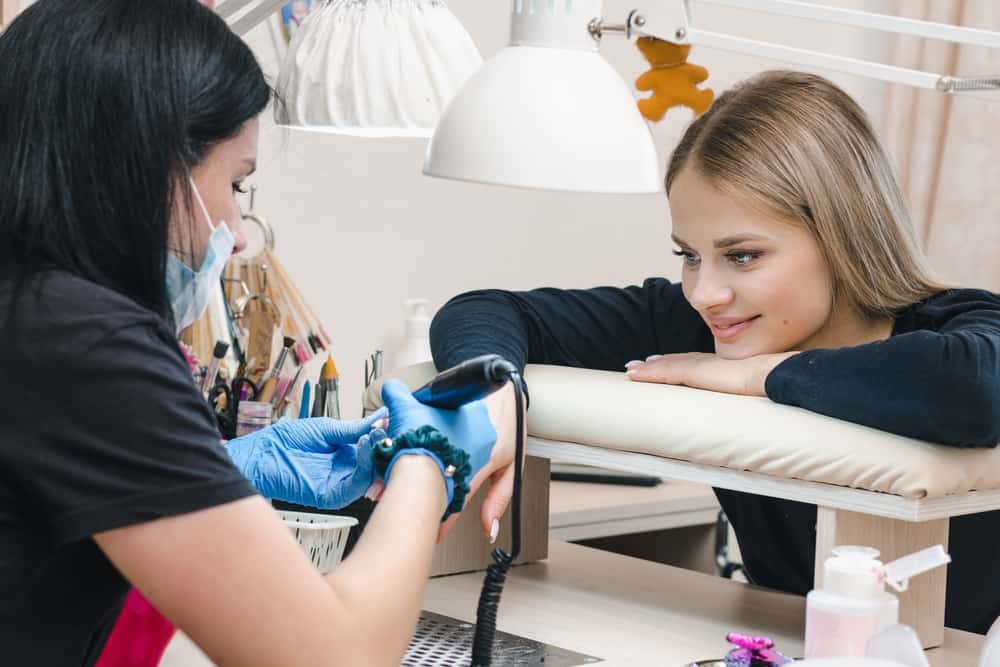 Yes, going to a nail salon gives you the best chance of keeping your white nails white.
They already observe all the best practices and have the equipment you need to get the best manicure.
It's always best to get a professional manicure done regardless of what nail treatment you choose to get.
They have all the knowledge and experience to ensure your white nails stay white.
They already have separate sets of chemicals and powders for white and pastel nails.
If you aren't sure, you can ask them to use a new one.
They're used to hearing and honoring that request.
It can also be more cost-effective for you to go to a salon instead of struggling to DIY your white nails.
Save that for when you want to go wild and experiment with color and design.
White nails just don't look good in an off-white tint or that funny beige or nicotine color they can get.
It defeats the purpose of the white nail.
How Do I Choose Quality Nail Polish?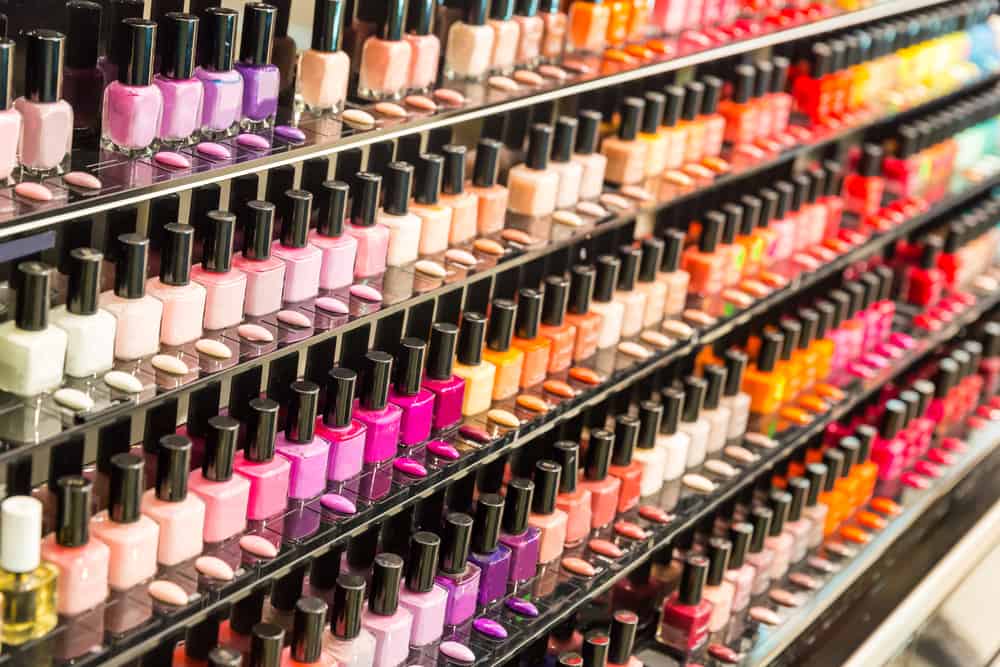 As you've probably gathered from what you've read here, quality in your nail polish is everything.
If you start with low-quality ingredients for a meal, how good does it taste?
The same concept applies to your nails.
You must arm yourself with better tools if you wish to have white, shiny nails, long-term.
The best and easiest way to choose a high-quality nail polish is to look inside the industry for answers from experts first before you go to private reviews by users of the nail polish.
People in the industry must make sure they use the best stuff for their clients.
When they put out a list of the best nail polish brands of the current year, it typically sticks.
You can get this information on Google, but don't just Google it and assume that every blog out there with a list has the right or best information.
It's suggested, in this case, to look at the digital or even paper versions of industry magazines.
Nail magazines that are specifically created for nail techs and schools are out there and can be used to reference the best nail polishes, color powders, bases, and topcoats.
These are all just as important.
Just as the foundation and the roof are the two most important parts of a structure, the base, and topcoats of the nail polish are also the most important parts.
At the same time, it's not good to skimp on the color either.
They all affect one another as you've learned here.