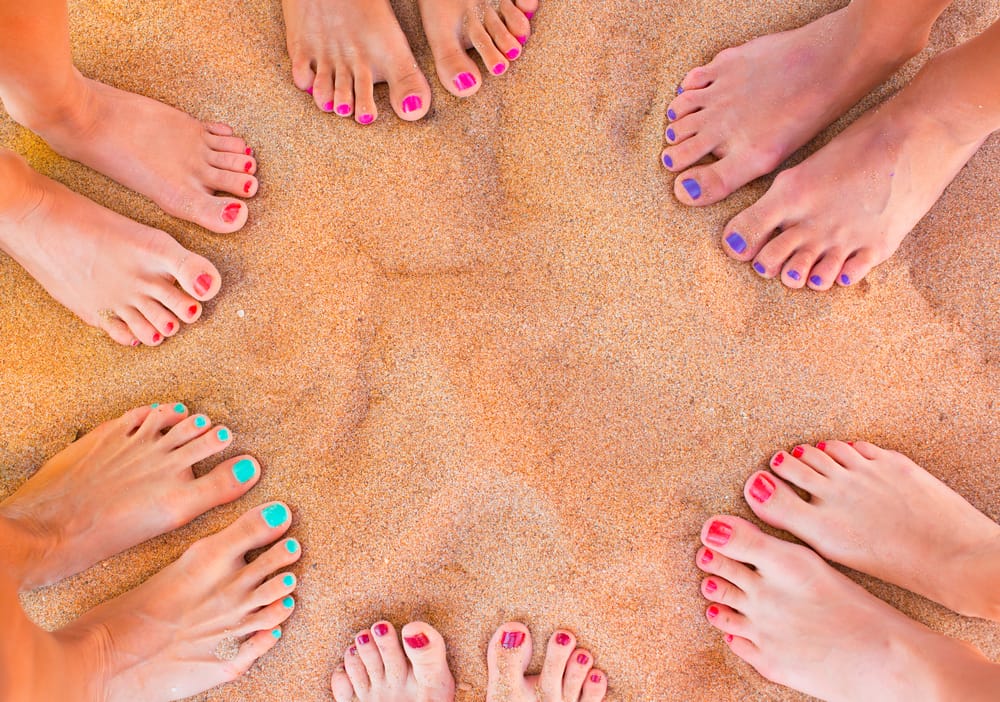 Summer is here, and it is time to take advantage of the warm weather and cooling ocean breeze!
There is no other feeling that can even begin to touch just how relaxing it is to listen to the gently crashing waves and feel the warm sand sinking in between your toes.
It's the perfect time to break out your cutest swimsuit and bask in the summer sun.
All you have to do is figure out what color your nails are going to be for the seasonal occasion.
Best Nail Colors For The Beach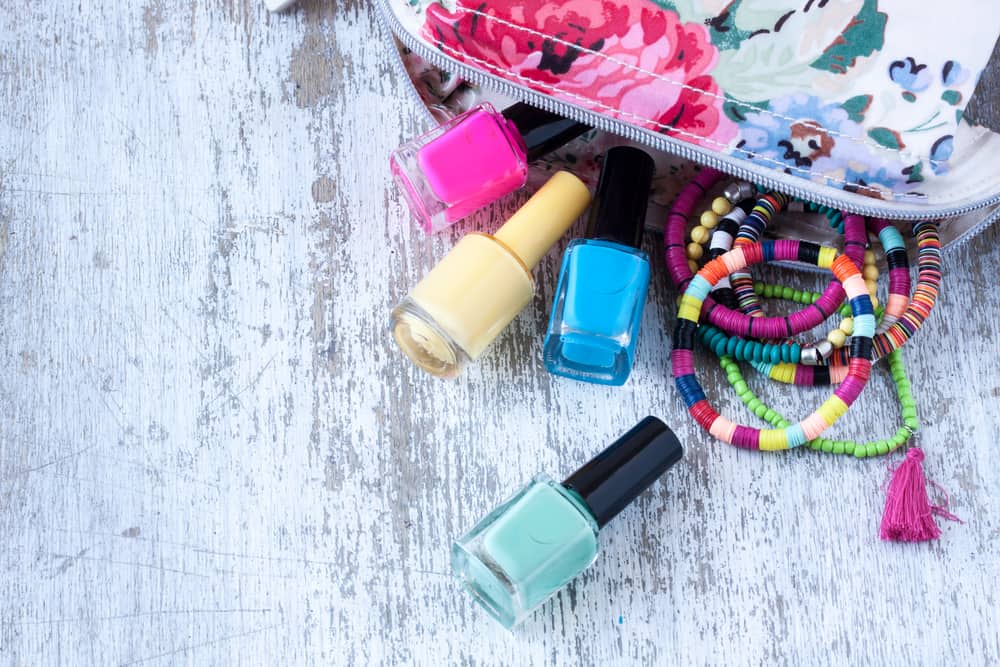 The best summer colors are almost always going to be light or bright.
Your hunt for the perfect nail color for the beach is going to be teaching you some techniques used by painters and every other kind of artist.
You will also be using the colors of your swimsuit or beach outfit to determine what colors your nails should be next.
Let's talk about color theory.
You probably know more than you think about color theory.
Remember in elementary school when you were taught about primary, secondary, and tertiary colors?
That is part of color theory.
The deeper you get into your education of color theory, the more you learn about which colors complement each other and how.
You can also learn about how certain colors make most people feel.
This theory was started by Sir Isaac Newton in 1666 and has only been expanded upon in more recent years.
Hue, chroma, and lighting are also crucial parts of color theory.
Hue is what the color appears to be, with descriptors such as red, yellow, green, and countless more.
Chroma describes how pure the color is and whether or not the color has a black shade, white tint, or grey tone.
Lighting refers to how pale or saturated the color is.
There are six color schemes in design: monochromatic, analogous, complementary, split-complementary, triad, and tetradic.
Using a color wheel, you can make the six arrow shapes of the color schemes in order to figure out what color is going to work best for your outfit.
1. Ravishing In Red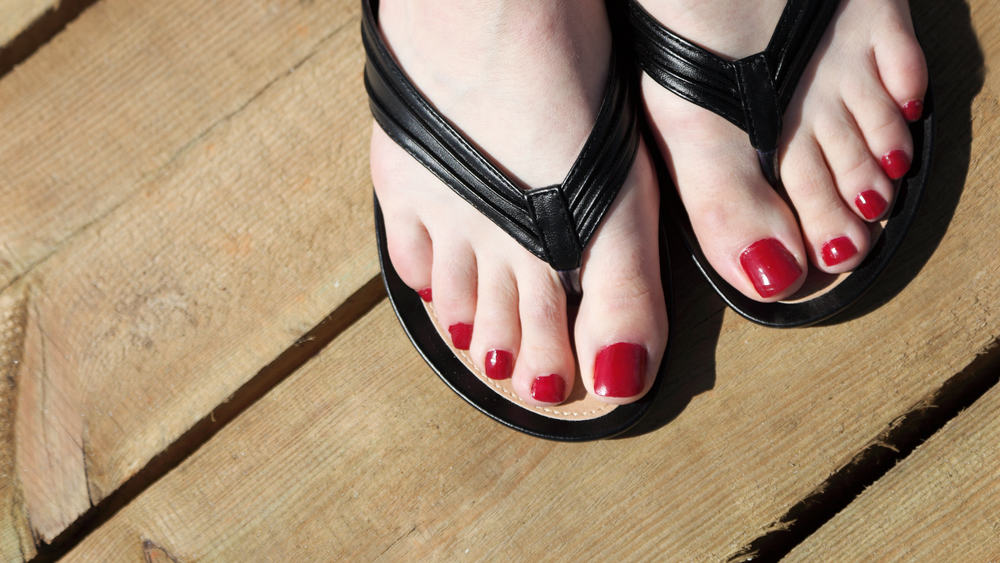 There is no color as sensual and flirtatious as red.
According to color theory, red instills excitement into those who wear it.
If your swimsuit is red, you're going to need some strong, bold colors.
The chroma and lighting should be at similar levels, meaning that if you are wearing a dark or light red, you should use a nail polish that has the same amount of paleness, saturation, shade, tint, or tone.
Red looks even more brilliantly passionate when paired with orange or a deep pink.
These three colors are an analogous color scheme.
Red and orange embody the beauty of a burning fire.
Deep pink and red make for a classic romantic combination.
You can also have a bit of fun with the primary colors.
Nothing says "summer" more than a primary colored, inflatable beach ball.
Red, blue, and yellow make up a triadic color scheme.
You could also go with iconic casino colors, such as red, black, and white.
The moon manicure was originally worn in red by 1920s and 1930s Hollywood actresses.
It's the perfect touch for a refined summer afternoon.
2. Blue As The Ocean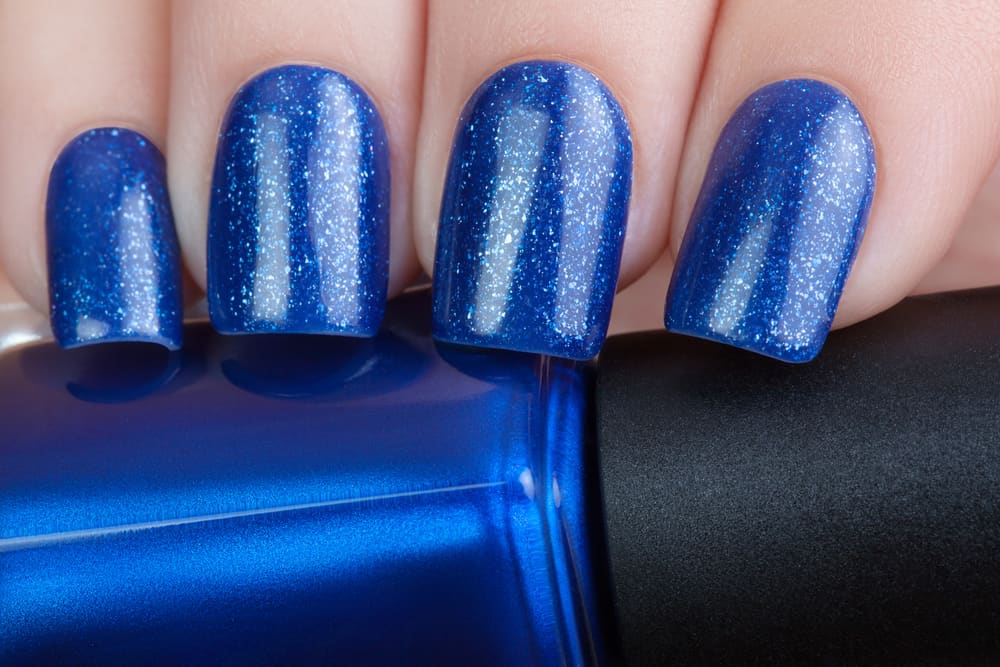 An obvious perfect color for the beach is blue.
We already know what a fun, summer combination the primary colors are, but blue can be combined with more than just yellow and red.
You could always gather your nail color inspiration from the pin-up sailor girls of the 1950s.
They would most often pair light and dark shades of blue with white to mimic the sailor suits of the 1950s.
The color combination also looks like foaming waves of the sea.
If you're looking to add a little more color, try pairing blue with purple and teal!
This analogous color scheme gives the feeling of coral in the air.
These clean colors spread feelings of happiness, honesty, optimism, and loyalty.
You can even combine lighter shades of blue with darker shades of blue.
3. Sunny Yellow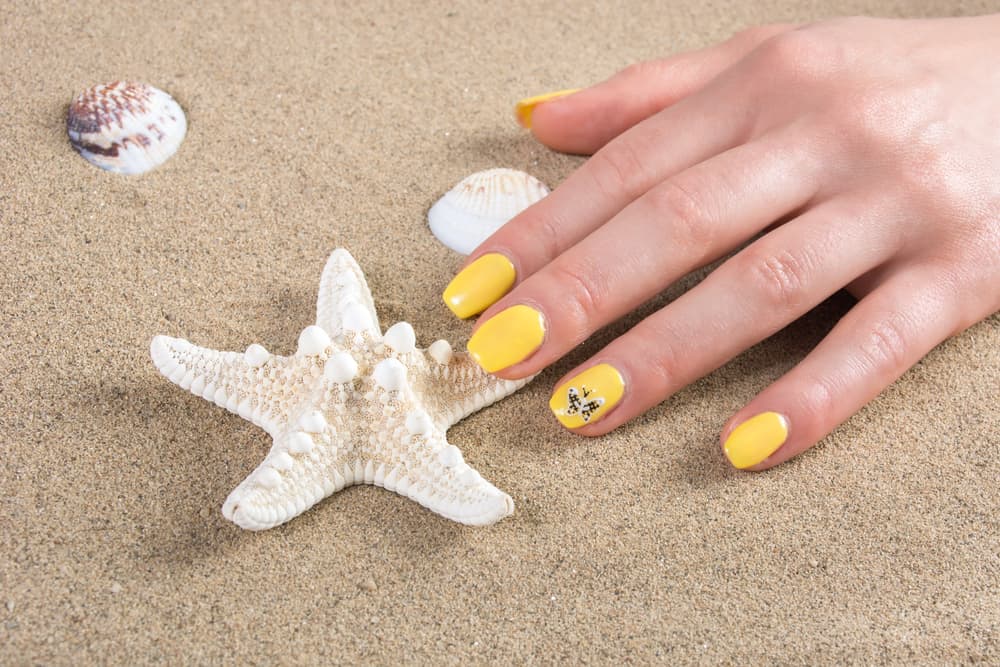 Wearing yellow in the summer sun is refreshing and vibrant!
Even softer tones of yellow are amazing with a sandy beach background.
Your swimsuit may be a bright yellow, but don't be afraid to paint your nails a lighter shade of yellow than your suit.
Try a pastel yellow for a bright but subtle shade of yellow that goes anywhere with you, whether it's the rejuvenating ocean waves or the anxious work week that comes before your beach vacation.
If you're looking for a more tropical set of colors, paint your nails green or orange to go with your yellow outfit.
They also make up an analogous color scheme.
If you are a fan of tropical flowers, you could take inspiration from a crepe ginger flower and pair your yellow swimsuit with white nails.
The Hawaiian Bamboo Orchid adds a rich purple to the white and yellow combination.
White, purple, and yellow make for such a tranquil set of colors.
4. Pleasantly Pink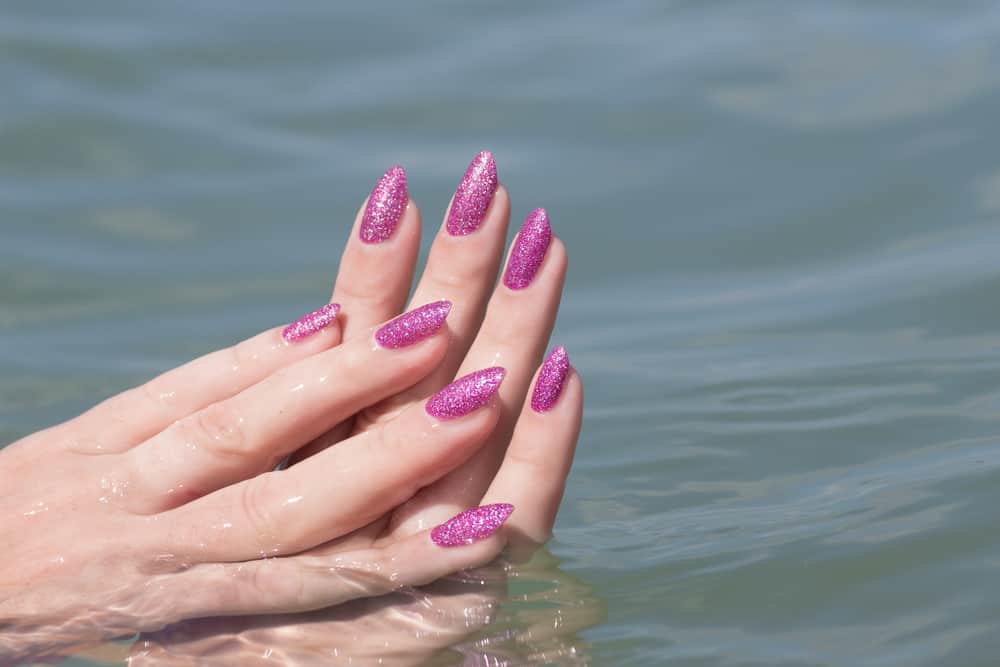 Pink swimsuits are adorable and surprisingly versatile!
A soft pink can always be paired with a baby blue to create a sweet and pure look.
You could go for a tetradic color scheme by combining pig pink, baby blue, lime green, and cantaloupe orange.
These colors are perfect for a summer walk on the pier.
They're light and festive without being overwhelming.
If you are wearing a deep pink, you might want to go with a different set of colors.
Deep purple pairs well with a hot pink.
The color pairing may remind you of the 1980s, but is that really a bad thing?
Turn up Cyndi Lauper on your radio and have some fun!
Hot pink can be paired with chartreuse for a candy-like watermelon design!
You can even add little specks of black to look like the seeds!
Another vibrant combination is hot pink with teal.
With these colors, the brighter the color, the bolder the look.
5. A Green Machine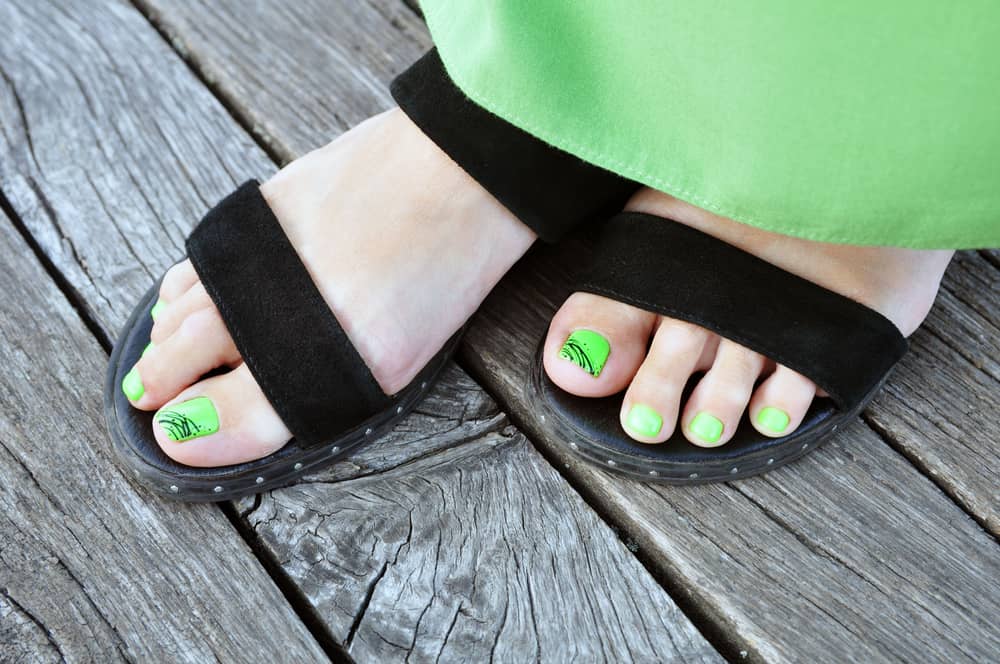 Green can be one of the most difficult colors to find pairings for that aren't tacky or just more green.
The special trait that green has is that it looks amazing when paired with any other shade of green, whether that be darker or light.
You could always match your nails with one of the best summer treats: watermelon!
Many people also like to combine lighter shades of green with white.
This gives off a tranquil, clean feeling.
The darker the shade of green, the harder it is to pair.
A soft, lime green swimsuit pairs well with equally light shades of cyan and honeydew.
Tea green looks best with grey or sea green.
Forest green and Kelly green make for a lovely monochromatic look.
Lighter shades of green also pair well with rosebud red.
Green will give most people a sense of comfort, according to color theory.
6. Cheerful Orange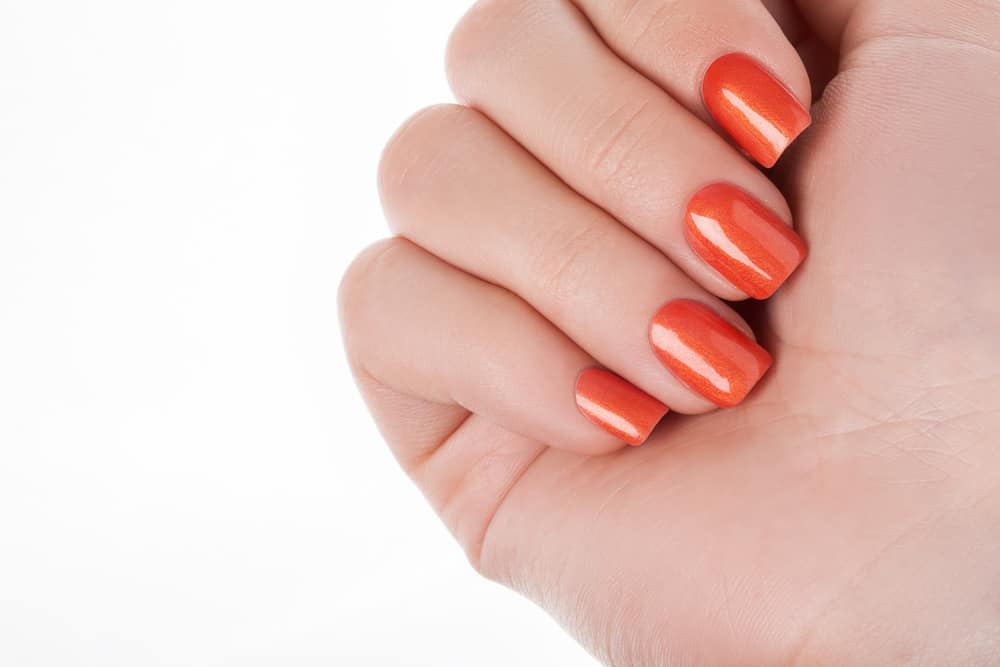 Color theory states that orange gives most people a sense of desire, and what is more desirable than a day out on the beach?
Your orange swimsuit will look amazing with black or white nails.
Black and orange will give you a more athletic look.
White and orange are a little cleaner and tidier.
You could even go for a natural-colored nail, thanks to the way that orange complements just about every skin tone.
If you're looking for a look that is as hot as fire, try going with red and yellow nails.
Nothing says burning hot, summer love like red, orange, and yellow!
This analogous color scheme will never let you down.
Orange can also be paired with Kelly green or honeydew.
This will give you a more floral look.
Beyond Color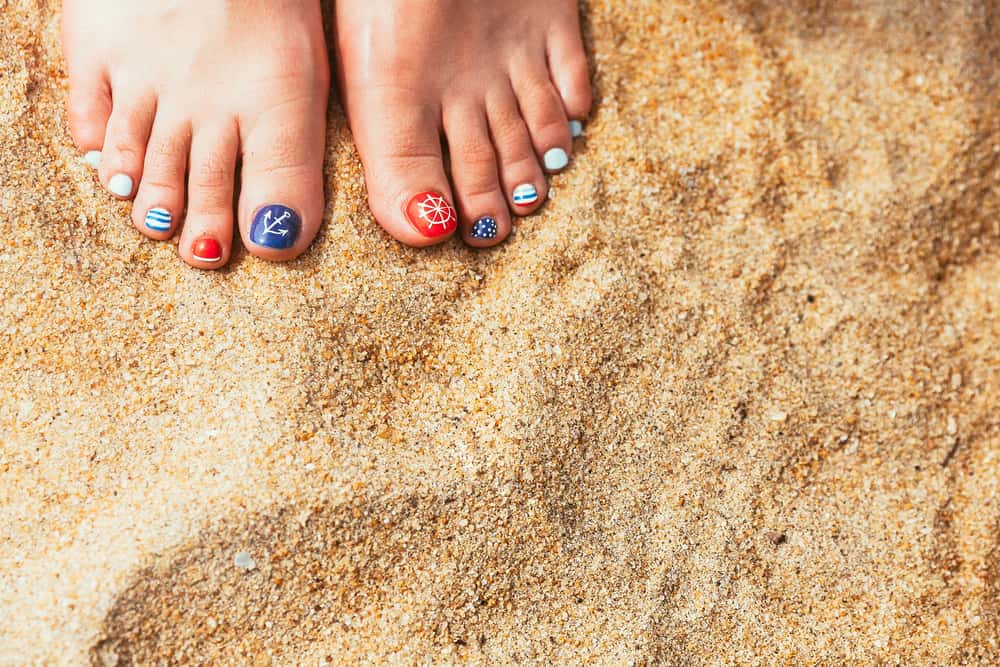 Your color scheme acts as the solid base and guidelines for your nail designs.
There are more aspects to nail design than just the colors used.
You should also consider what kind of pattern you want on your nails.
Even if you don't have multiple types of paintbrushes, there are things that you may have lying around your house that you can use instead, like a toothpick.
Anyone who paints has probably used a toothpick instead of a paintbrush.
Toothpicks hold the perfect amount of paint for painting tiny details while also giving you total control.
If you decide to use a toothpick for your nail art, then make sure you have enough for each color.
The nail polish that builds up eventually makes the toothpick thicker and duller.
1. Starfish Nails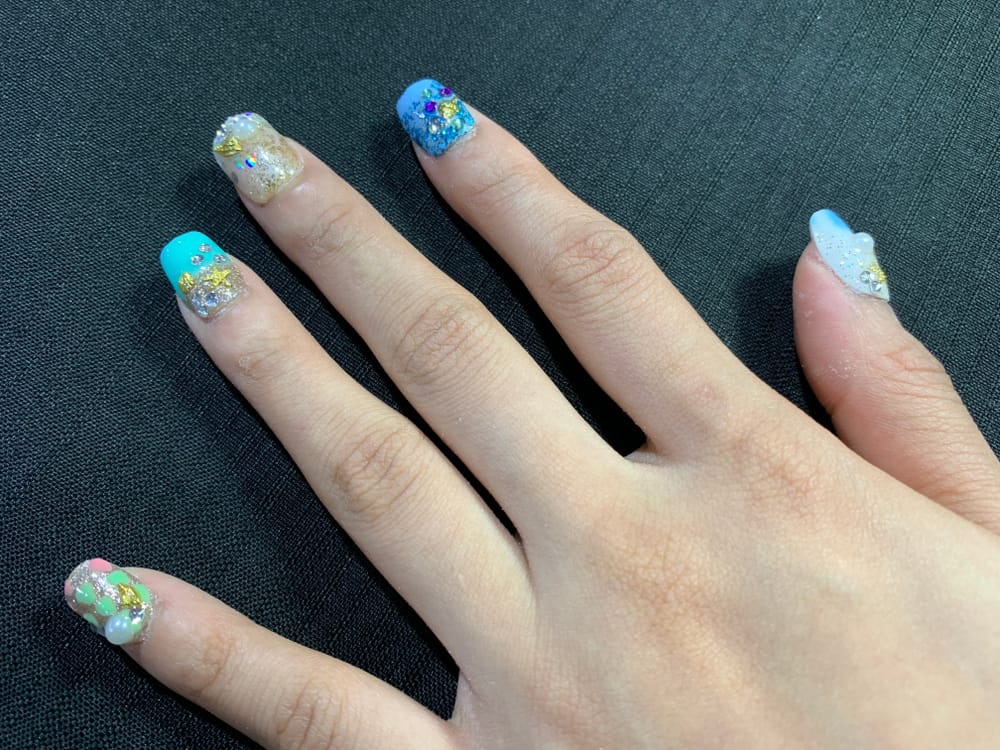 There are about 2,000 different species of starfish that come in all different colors and shapes.
If you're looking to theme your nails to your trip to the beach, starfish are some of the easiest ocean creatures to paint.
All you need to do is start by painting the base of your nails a light color, like a soft shade of blue or green.
Then choose a color for your starfish.
Orange and pink are two of the most common colors of starfish.
You could take nail inspiration from the most famous starfish, Patrick Star of Spongebob Squarepants.
He is best known for wearing yellow-green pants that have mauve flower outlines covering them.
The four-petaled flower design is quite simple to draw and is iconic enough to get anyone excited about your nails.
2. Colored Tips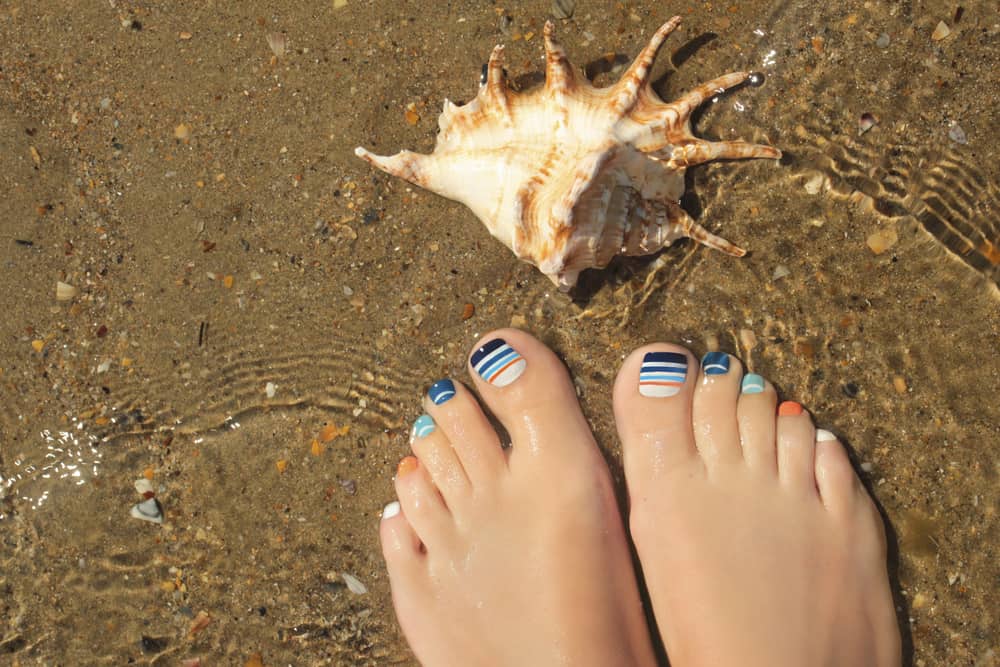 Those nearly empty nail polish bottles can quit taunting you every time you go through your nail polishes with the colored tips design.
This design looks like a French manicure, but it's more fun.
This design looks especially good with sparkly, glittery nail polish.
For this design, the bolder the color, the better it will look.
Although beginners may want to stick to only using one color, more experienced people can have a bit more fun with the basic design by adding small stripes of complementary colors.
Metallic nail polishes make for some of the most striking and professional-looking stripes.
3. Bubbles For A Bubbly Personality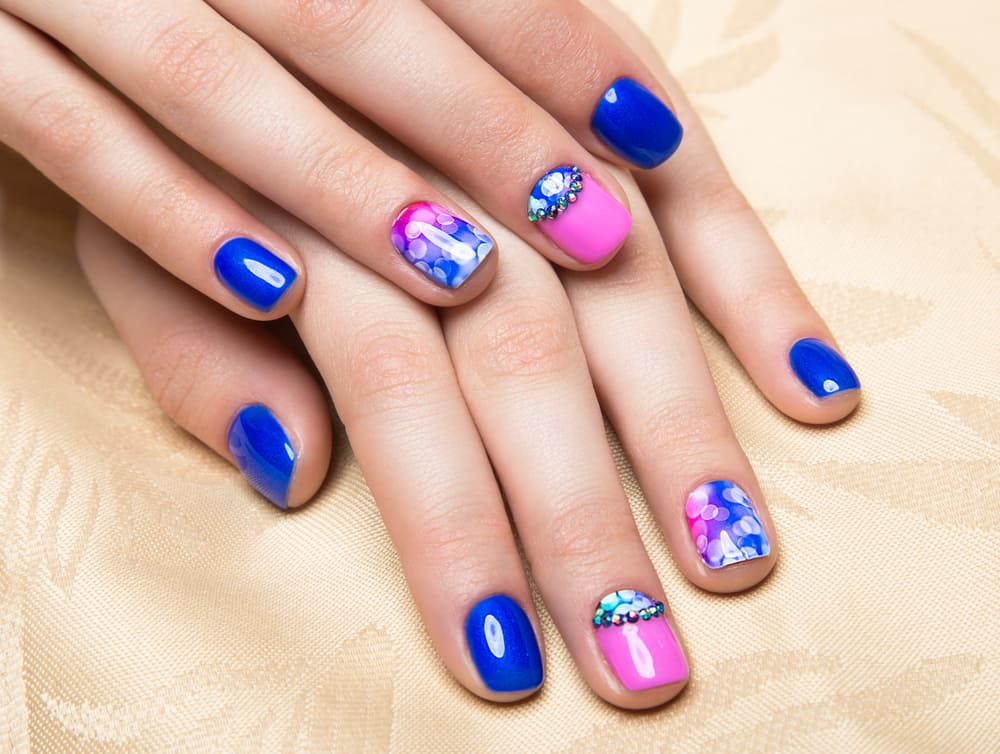 Bubbles are the perfect way to elevate your blue nail design.
Circles can be made by gently dabbing a darker shade of blue atop a lighter blue background.
You can invert the two shades if you want to.
An additional detail you can add is comma-shaped light reflections to the upper right side of your bubble.
Your light reflections will look best in your palest blue or white.
Before you add any design, just make sure that the bottom layer is completely dry.
Otherwise, you could experience your design bleeding.
The bubble design would look even better with white tips.
You can vary the amount and position of the bubbles for a livelier design or make them all identical.
Your bubbly nails will look perfect when you take a picture of them with the water as your backdrop.
4. Two-Tone For Double The Fun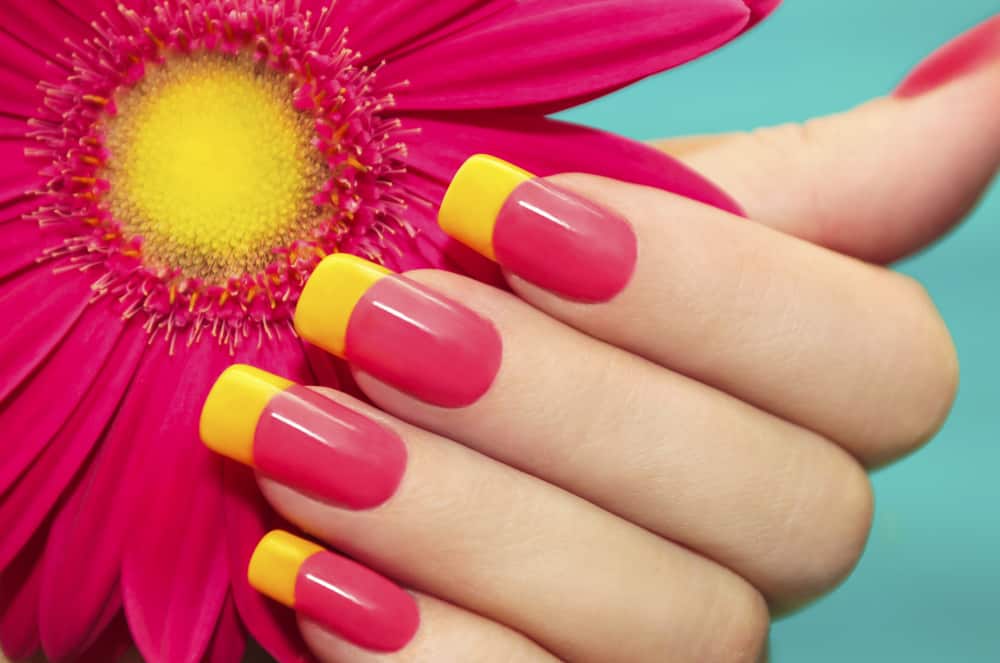 Two-tone nails are the perfect way to incorporate two colors from your swimsuit into your design.
You can have the two colors split down the middle vertically or horizontally, and they will still look magnificent.
If you want to give your nails a little avant garde inspiration, split them diagonally.
The best way to get a smooth line is to use the lighter of your two colors as a base.
Once the base is dried, carefully make a quick line across the point where you want to divide the colors.
If you are looking for a 50/50 split, begin the second color a couple of millimeters away from where you think the middle of your nail is.
If you believe you've gone too far with the second color, you can always cover it up with a black or white stripe!
5. An Absolutely Tasty Design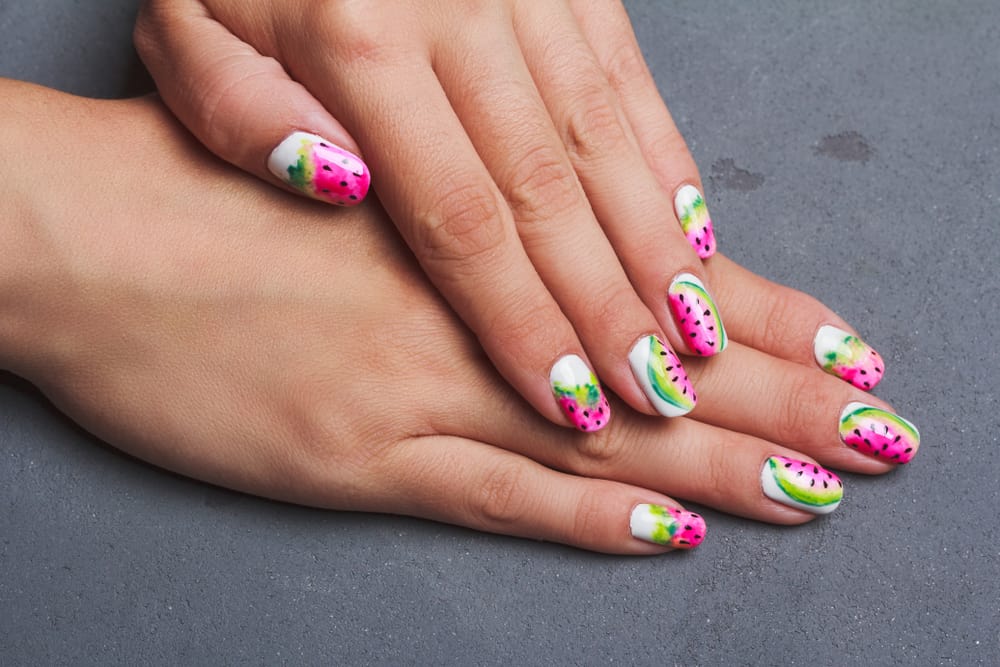 A red or green swimsuit is the perfect outfit to pair watermelon nails with!
You can accomplish the watermelon look with one nail or overall five!
Even the single finger design has options.
You can make the tip of your nail or your cuticle the green rind of the watermelon.
Add some red above or below with some black teardrop-shaped seeds.
This yummy design can even be spread across your whole hand.
Use a darker and lighter shade of green to create stripes, or you can use one solid color on two of your fingers.
The middle finger can have half green with a white stripe dividing the green from the red.
The rest of your fingers can be red with the black teardrop seeds.
Watermelon is the ultimate summer snack!
Your Best Beach Nails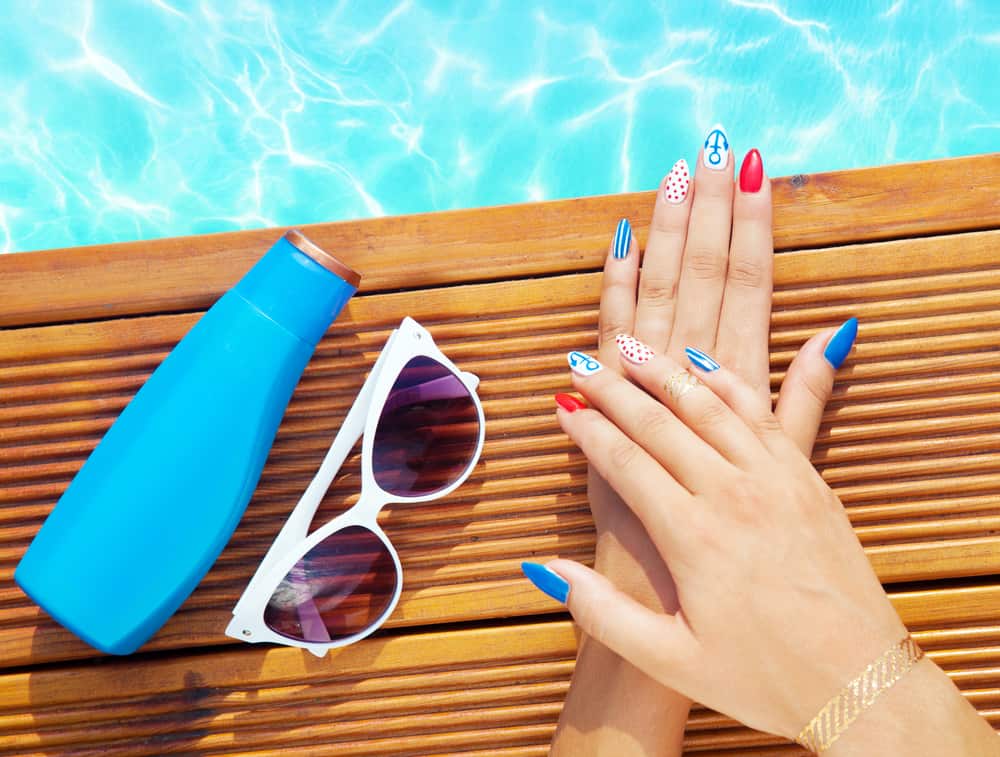 Not all of us have our outfits planned out ahead of time.
White fingernail polish is the most versatile option you have.
Those who are looking to add a little more color to their beach nails will want to look towards soft shades of blue and yellow to go with the golden sands and sapphire waters.
Each summer only happens once, and you'll never have a summer that is exactly like the last.
Make the best of your summer outfits with a little more art and design knowledge.
Summers are for having fun and going wild.
Be adventurous with your nails!
Take the extra time you may have in the summer to elevate your nail polish game and enjoy a lifetime of better, more beautiful nails.