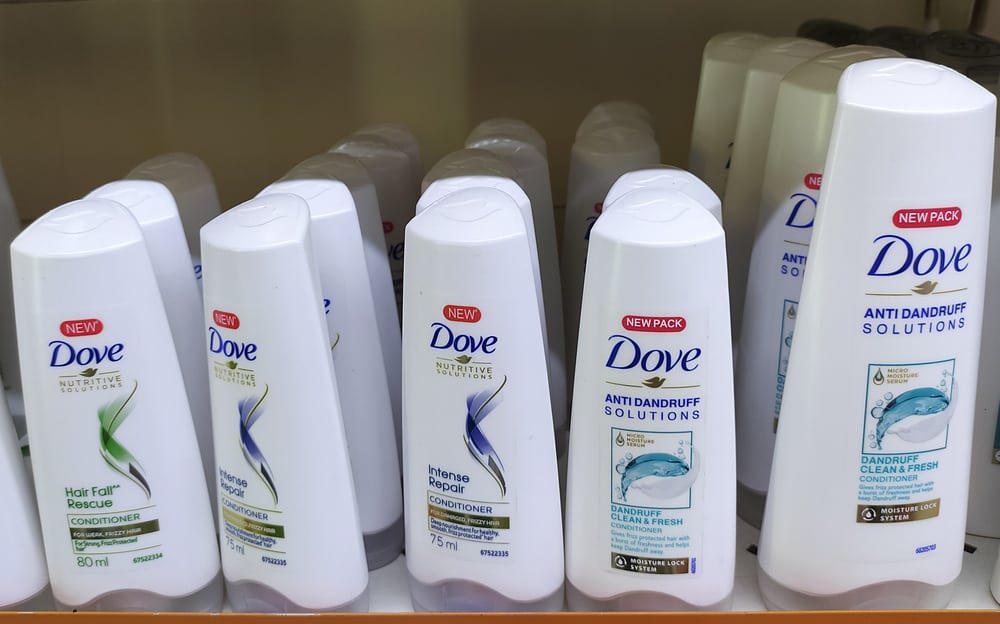 Trying to find the right product for your hair can be a challenge, especially if your hair isn't what most shampoos are made for.
All shampoos share the same aisle at your local grocery store, but not all shampoos are created equal.
While Dove is known for its body wash, hand soap, and lotion, the company also sells shampoo.
Is Dove Shampoo Bad For Your Hair?
Dove shampoo is one of the more affordable shampoos on the market.
Dove shampoo isn't bad for most hair types, but to prevent damage to your hair, you should carefully consider what type of hair you have.
Their shampoo has a lot of sulfates, which can cause your scalp to feel itchy or dry.
Sulfates can be helpful if you have naturally oily hair, as their job is to strip oil from your hair.
However, having too many sulfates can dry out all the natural oils and moisture from your hair.
If you have sensitive skin, dry hair, or hair that is chemically altered in any way, you should avoid hair products with copious amounts of sulfates.
You should especially avoid shampoos with a lot of sulfates if you have eczema or psoriasis.
By using sulfate-heavy hair products on dry hair, and especially dry, frizzy hair, you are going to make your hair frizz even more.
The oils in your hair decrease the amount of friction, and friction is what causes your hair to frizz and break.
If you have dyed hair, you should really only use hair products for dyed hair.
Your hair is stripped of all oil and dirt when it is dyed or bleached.
After dying or bleaching your hair, you need to focus on repairing the damage that your hair has gone through in the process.
Different Hair Types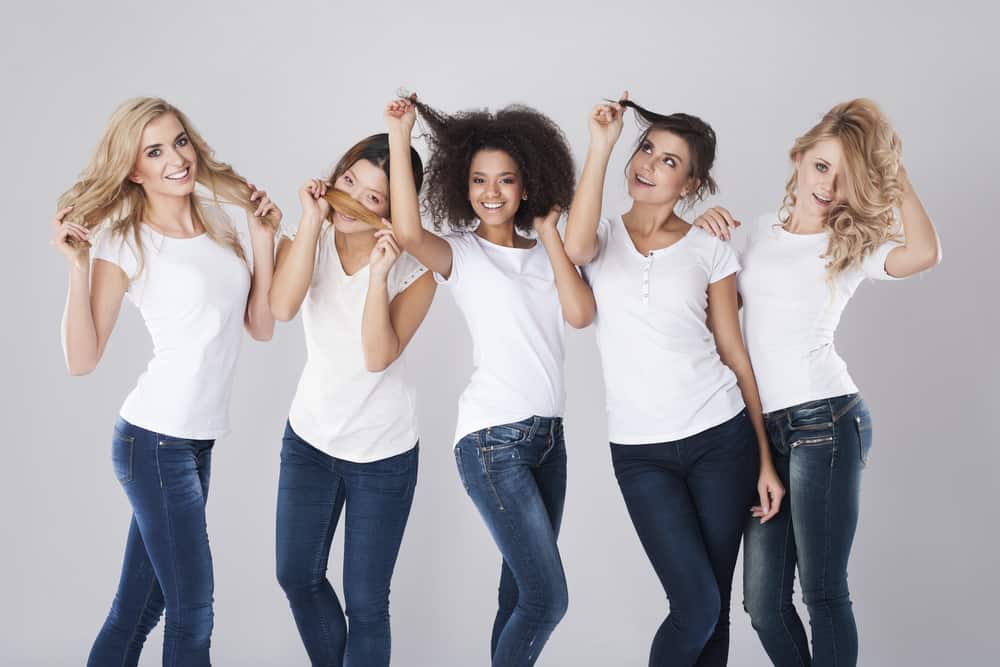 Different hair types respond uniquely when using the same chemicals.
What may work wonderfully for one hair type is a nightmare for another.
Luckily, celebrity stylist Andre Walker has created a hair type chart to help you decide what kind of hair you have.
Although there are many unique and beautiful hair types, there are four general types of hair.
Type 1 hair is straight hair.
There are three different types of straight hair: 1a, 1b, and 1c.
Hair that is in the 1a category is straight and fine.
If your hair is described as 1b, then it is fine with a slight wave to it.
Those with straight, coarse hair are in the 1c category.
What all three of these hair types have in common is that they are extremely resistant to damage, but that also makes them difficult to curl.
Type 2 hair is wavy hair.
The three different types of Type 2 hair are 2a, 2b, and 2c.
Type 2a is the finest and thinnest of the Type 2 hair.
Type 2c is the most coarse and frizzy.
Type 2b is a happy medium between the two extremes.
Type 2a is the easiest type of hair to style as straight or curly.
Types 2b and 2c are vastly more difficult to style due their coarseness.
The third type of hair is curly hair.
There are only two types of curly hair: 3a and 3b.
Type 3a hair has looser curls while 3b hair has tight, corkscrew curls.
Type 3 hair is infamous for being extremely sensitive to humidity.
The more humidity, the more voluminous the hair.
The final type of hair is Type 4: kinky hair.
Similar to curly hair, kinky hair only has two types, which are 4a and 4b.
Type 4a hair is incredibly tightly coiled, whereas 4b is made up of tight, Z-shaped coils.
Type 4 hair is the most fragile and most dense type of hair.
Best Shampoos For Type 1 Hair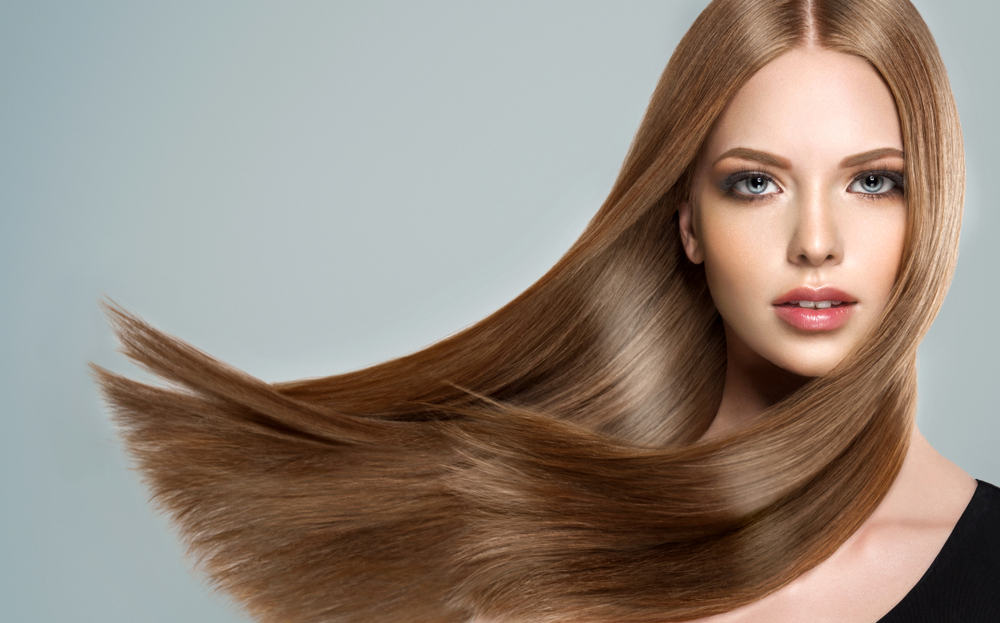 Type 1 hair may be the most resistant to damage, but this type of hair is also prone to building up grease the fastest.
Trying to find the perfect shampoo to clear out excess oil without completely stripping your hair of all its natural oil can be difficult.
Luckily, there are hair product companies that understand the balancing act and have made products perfect for Type 1 hair.
MopTop is a hair product company that understands how expensive it can be to take good care of your hair.
MopTop's Salon Gentle Shampoo is not only sulfate-free, but it's silicone-free, as well.
MopTop offers a hair care subscription service that gives you a 15% discount on individual products and will send you the products directly at whatever time interval that you choose.
Kérastase Paris has made one of the best shampoos for fine, straight hair of 2021.
Although their Bain Volumifique is the most expensive shampoo out of the bunch, it is well worth the price tag.
After only a couple of washes, you will notice how much this nectar from the heavens will boost your hair's volume and thickness.
If you've seriously damaged your Type 1 hair, then you need this shampoo for its incredibly restorative qualities.
This product is so good at restoring hair because of all the cationic polymers and intra-cylanes that are packed into the shampoo.
Aubrey Organics has taken a more natural approach to helping those with Type 1 hair clean up without completely stripping the hair.
Their Green Tea Shampoo uses matcha green tea and ginseng to eliminate oil build-up while also giving your hair all the vitamins it needs to be healthy.
This is also the most affordable option at $11.69.
The green tea and ginseng help give your hair a healthy shine.
Best Shampoos For Type 2 Hair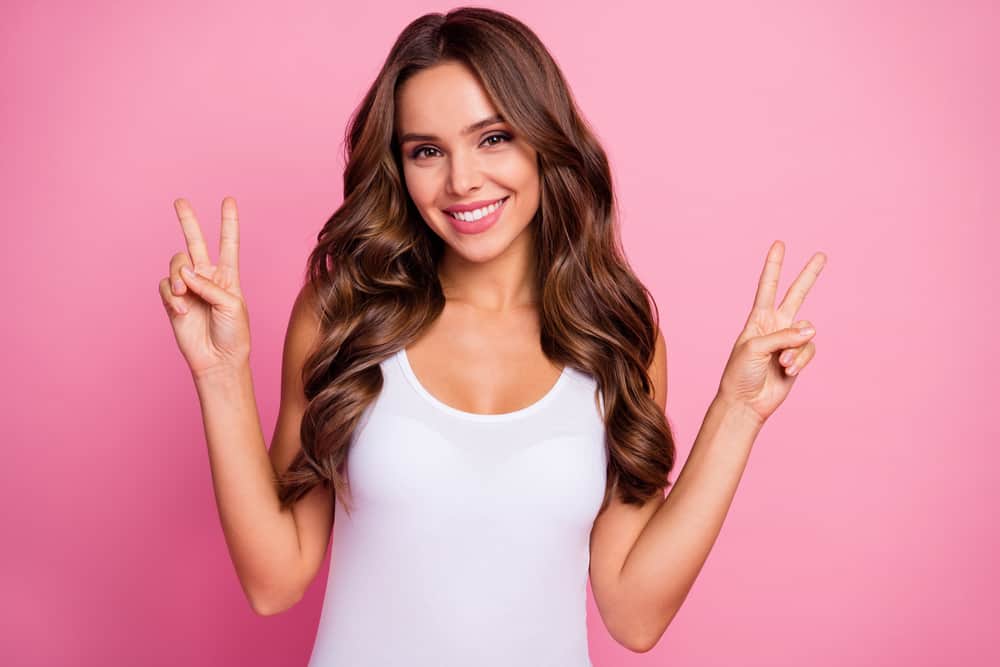 Anyone with Type 2 hair knows how difficult it can be to manage, but the right shampoo can do your curly hair wonders.
Sometimes, your hair is difficult to style simply because it doesn't get the nutrients that it needs to be at its best.
There are many great options for those who want to help their hair heal and unlock its true potential.
The first shampoo any person with type 2 hair should check out is Shea Moisture's Coconut & Hibiscus Curl & Shine Shampoo.
Shea Moisture's shampoo is excellent for making curly hair more manageable.
Their product uses coconut oil, rosemary, and aloe oil to cleanse and moisturize hair.
The hibiscus flower extract helps the elasticity of your hair.
The silk protein in the shampoo makes your hair as soft as silk.
If you have 2a hair, this shampoo is for you.
Rene Furterer Paris has created the perfect solution for those whose gentle curls are looking more like a fuzzy, frizzy dandelion.
Rene Furterer's Sublime Curl uses ingredients such as acanthus extract and evening primrose oil to help define curls and make them less likely to frizz without weighing down your hair.
Not Your Mother's Curl Talk Curl Care Shampoo is an excellent affordable option for every kind of Type 2 hair.
Their shampoo is sulfate-free, silicone-free, and damage-free.
By using a blend of rice, keratin amino acids, and enzymes, this shampoo is able to help protect and define your curls.
Kérastase Paris is at it again, but now they're helping out all of those with wavy hair.
Kérastase Paris' Bain Fluidealiste Shampoo is sulfate-free, which makes it perfect for those with dyed hair.
It also is packed with keratin, which is the key nutrient that your wavy hair needs to stay bouncy and less frizzy.
Best Shampoos For Type 3 Hair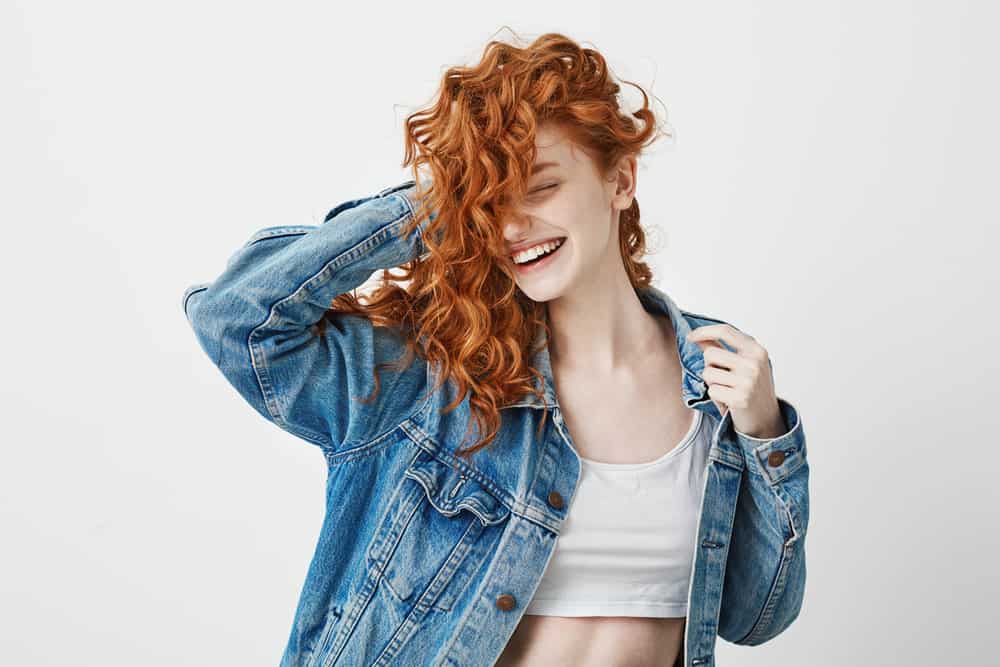 Curly-haired folks can often struggle to find hair products that don't damage their hair.
Curly hair is absolutely stunning, but it can take a lot to maintain and to keep in order.
There are a few shampoos for Type 3 hair that have been hitting it out of the park with their high-quality products.
Not Your Mother's hair products have taken the curly-haired community by storm.
Not only are their products affordable, but you can actually find them at your local beauty store.
One of their best products for Type 3 hair is their Sicilian Blood Orange & Black Currant Shampoo.
This shampoo will help soften and smooth your curls while also revitalizing your curls.
Ouidad are the self-proclaimed curl experts, and this shampoo proves it.
Ouidad's Curl Shaper Good As New Moisture Restoring Shampoo is perfect for those who prefer to wash their hair daily.
This shampoo is oil-based and can help gently loosen your curls.
The oil used mimics your hair's own natural oil to help rejuvenate it.
It can also help your hair shine just as bright as you!
Hair care giant Aveda has shown that you can offer excellent, curly hair products all while being vegan, cruelty-free, and eco-friendly.
Aveda's Be Curly shampoo uses wheat protein and an organic aloe blend to tame your frizz and help your hair shine with health.
Aveda also offers a subscription service with free shipping that saves you 10% on your refills.
Olaplex is a favorite hair care brand of most hairdressers.
Olaplex's No. 4 Bond Maintenance Shampoo is perfect for those who are looking to repair and protect their curls.
This shampoo is also color-safe, meaning it is safe to use on dyed hair.
No. 4 Bond Maintenance will give your hair a beautiful shine and reduce the amount of breakage.
Best Shampoos For Type 4 Hair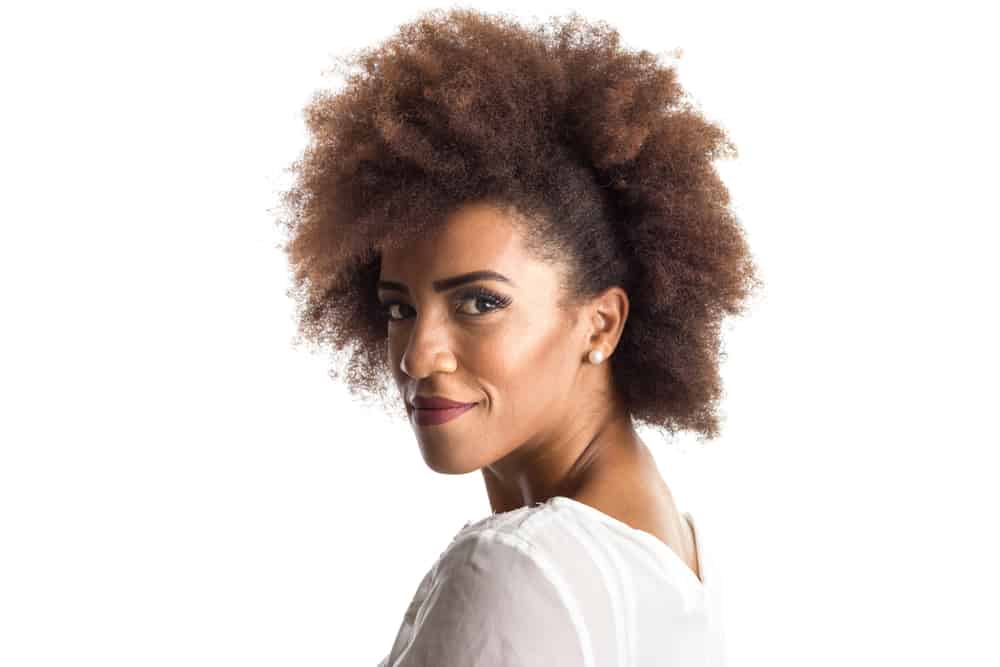 Type 4 hair is the gentlest and most fragile hair type.
Type 4 hair is just as delicate as it is beautiful.
Those with Type 4 hair can have a difficult time simply walking into a grocery store and finding a product that won't destroy their hair.
Type 4 hair is the worst kind of hair to use sulfate-heavy shampoo on.
Design Essentials has multiple lines that are perfect for those with kinky hair.
The best product in their line has to be the Almond & Avocado Moisturizing & Detangling Sulfate-Free Shampoo.
What's incredible about the Design Essentials website is that they list what type of hair each product is good for.
Many celebrity hairdressers use this product to help soften and heal hair while being as gentle as possible.
Another favorite of those with Type 4c hair is Oribe's Shampoo for Moisture & Control.
Oribe uses a combination of watermelon, lychee, and edelweiss flower to help prevent your hair from drying out.
This shampoo is full of amino acids to help moisturize your hair and scalp.
By adding amber extract, this shampoo also helps strengthen your hair.
The reviews for this product are nothing but five stars.
People love how well Oribe's shampoo works!
As an affordable option, those with Type4c hair can turn to tgin's Moisture Rich Sulfate Free Shampoo.
The company name "tgin" stands for Thank God It's Natural, which is exactly what all of their products are.
This shampoo is made with coconut oil to gently wash your hair and amla oil to reduce breakage and increase moisture retention.
You can even find this shampoo at Target for $15!
Everybody deserves to have healthy hair and look beautifully unique.