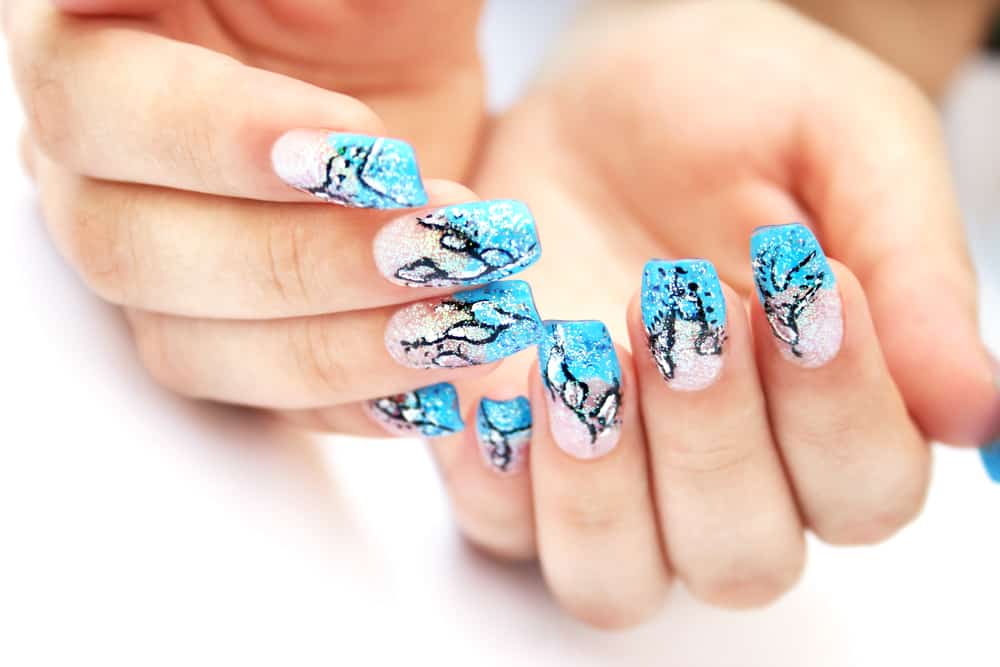 Polygel nails are the newest innovation in nail artistry and dip powder nails are the retro-style of nail polish that has made a major return.
Both options claim to be the happy medium between what gel nails and acrylic nails offer while both offer a higher level of safety.
Although these two types of nail enhancements sound similar, they are incredibly different.
Polygel and dip powder nails are fighting for the title of best nail enhancement.
Polygel Versus Dip Nails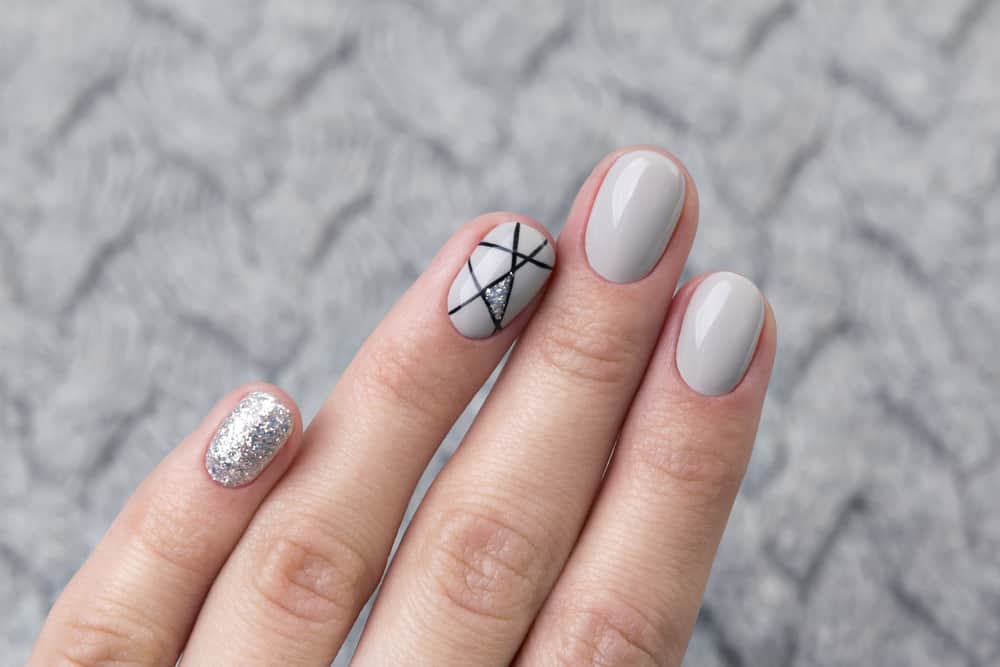 Polygel nails and dip powder nails take vastly different approaches to create vastly different results in order to achieve the same goal.
Both types of nail enhancements are looking to replace gel and acrylic nails due to the hazards that are known to come from applying and removing these types of nails, such as respiratory problems and cancer.
Polygel nails are a combination of acrylic and gel nail polish, combining the best ingredients from each type of artificial nail.
These nails are as flexible as gel nail polishes and as sturdy as acrylic nail polishes.
Dip powder nails are created by layering coats of colorful powder and clear layers of base coat in order to create a strikingly colorful nail.
Because you're only using the powder and a base coat, it is easy to get beautiful nails at home and can be done by a younger nail art lover with light supervision.
What helps make dip powder and polygel nails safer than older artificial nail styles is the way they are applied.
Polygel has a toothpaste-like consistency and even comes in a tube as well, which limits how many chemicals are being breathed in by the client and the nail technician.
Dip powder nails don't use curing lamps, like polygel, gel, and acrylics.
This limits the amount of harmful ultraviolet wavelengths the customer's hands and fingers have to endure.
They're also much easier to do at home by yourself or with friends.
Both polygel and dip powder nails are known to last much longer than other artificial nails, but dip powder nails are capable of lasting a month.
Polygel nails can only last a couple of weeks and may need to be filled in to even last that long.
Applying Dip Nails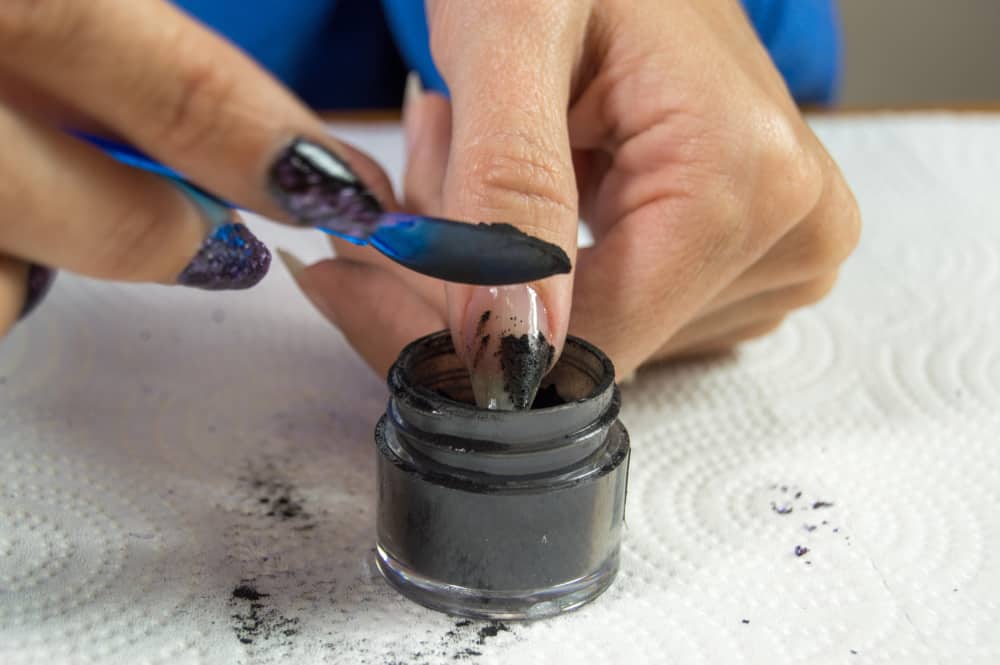 One of the biggest differences between polygel nails and dip nails is the application process.
Dip powder nails have an incredibly unique application process that has made them the favorite of many teenage nail artists.
The key to getting a long-lasting artificial nail is to prepare your finger to the best of your ability.
Preparation for dip powder nails starts with grabbing your cuticle pusher and pushing back your cuticles.
Once the cuticle is in place, you will want to file the nail until you remove the natural shine your nail plate has, and you have created an evenly rough texture for the base coat to cling to.
Make sure to sanitize your nails thoroughly to reduce the risk of bacteria or infection slipping under the artificial nail.
As soon as your nails are completely dried, you will want to apply your first coat of base coat to your nail plate.
Make sure to remove any base coat that has landed anywhere that isn't your nail because, otherwise, you could stain your skin.
To apply the powder, your method will depend on how used the powder is or is going to be.
If you're the only one using the dip powder, then you can dip your finger directly into the powder. Otherwise, it is better to brush dip powder onto your nail.
You'll repeat the application process until you get the coverage that you want.
Once satisfied, you'll apply another thin layer of base coat and dip or brush acrylic powder to seal all the layers of powder.
To help harden the nail, you'll need to apply an activator and allow it to dry for two minutes.
Smoothing out the surface of the nail will require buffing, which is followed by adding another layer of activator and finishing with a sealer.
Applying Polygel Nails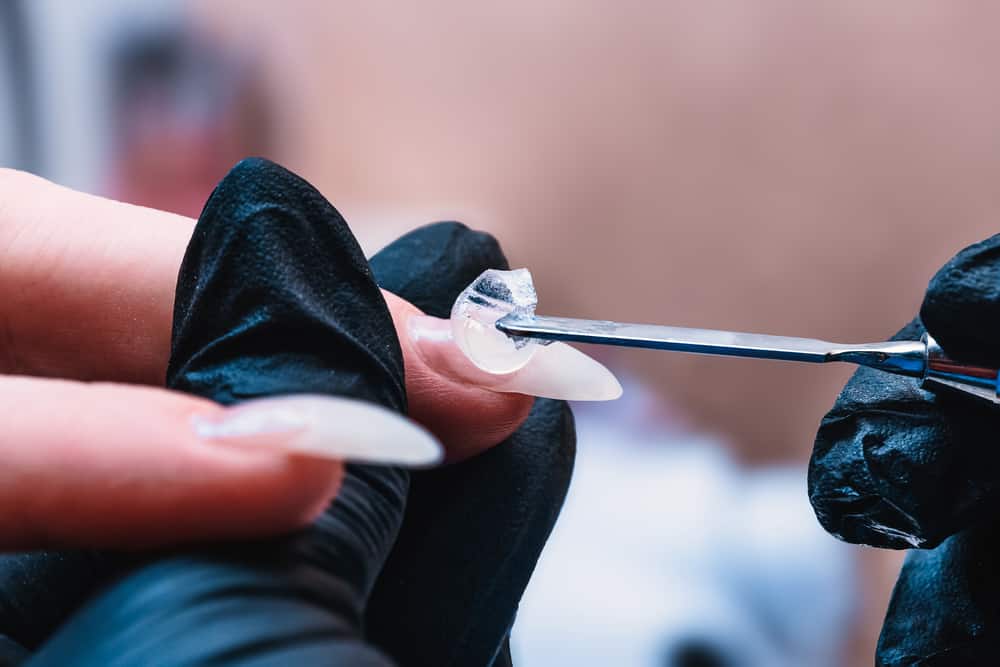 Similar to dip powder nails, preparation is key for getting satisfying results from your polygel nails.
You will want to start preparing your nails by trimming and shaping them.
For longer polygel nails, you're going to need to use nail forms.
Shape your nails to fit your finger and the nail form.
If you're only applying polygel to your natural nail shape, then you won't need to worry about nail forms.
Instead, simply shape your nail to your desired look.
Make sure not to cut your nail too short, or you won't be able to put an artificial nail over an open wound to avoid infection.
You'll need to wash and dry your hands before your polygel nails can be applied.
It is best to use a nail dehydrator to avoid any fungal infection festering underneath your nail.
Once your hands are ready, you can squeeze out a pea-sized amount of polygel and apply it to the nail form, spreading it evenly across the form.
If you need more polygel, feel free to apply more to the nail form.
You will then need to use a brush with slip solution in order to move the polygel around the nail form.
If you don't have a slip solution, you can use rubbing alcohol, but rubbing alcohol can make the polygel more brittle.
Apply a base coat to your fingernails and let them cure under an ultraviolet lamp for 45 to 60 seconds before attaching the nail form.
Then gently press the nail form onto your finger and allow the nail to cure under the lamp for another 45 to 60 seconds.
You'll pop the nail form off and file out any imperfections in the nail before adding a final layer of top coat and cure your nails one final time.
The Cost Of Each Nail Type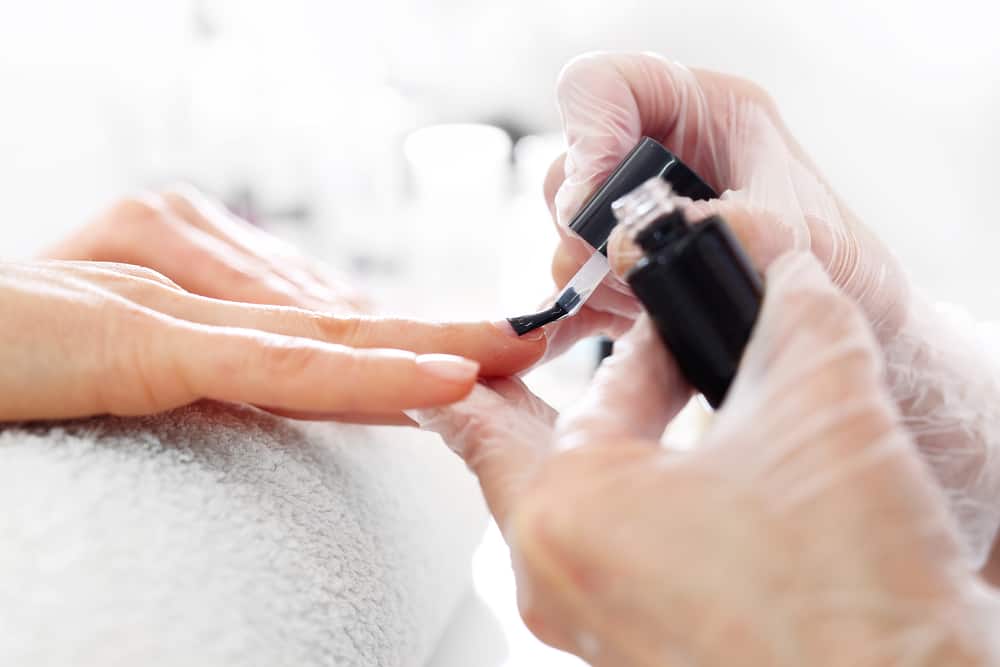 When determining which is the best nail enhancement or treatment for you, you may want to consider how much this is going to cost you, especially if you're a regular client at your local nail salon.
The two important points to consider are the initial cost and how regularly you'll need to return for fixes and replacements.
On average, having dip powder nails done at a salon is going to cost you anywhere from $30 to $50.
Since dip powder nails last anywhere from three to four weeks, your monthly expenses are only going to be $30 to $50 for your nail enhancement.
The difficult part about having dip powder nails done at a salon is that not all salons are willing to do dip powder nails.
Many sanitary risks come with dip powder nails and not every nail technician is willing to risk the health of their clients.
Polygel nails are going to be much more expensive than the dip powder nails, although they are available at more salons thanks to the lack of sanitary concerns.
On average, polygel nail applications are going to cost anywhere from $55 to $150.
Those who take excellent care of their nails and are doing work that is light on them can have their nails last three to four weeks on their own.
However, most people need to have the nails filled before that point.
Most fill appointments are going to cost about $80, but they never take as long as applying polygel nails.
This means that your polygel nail polish appointments are likely going to cost you over $100 and may even cost you over $200 each month.
When it comes to price, dip powder nails are the best option for those who are looking for an affordable nail treatment.
To Cure Or Not To Cure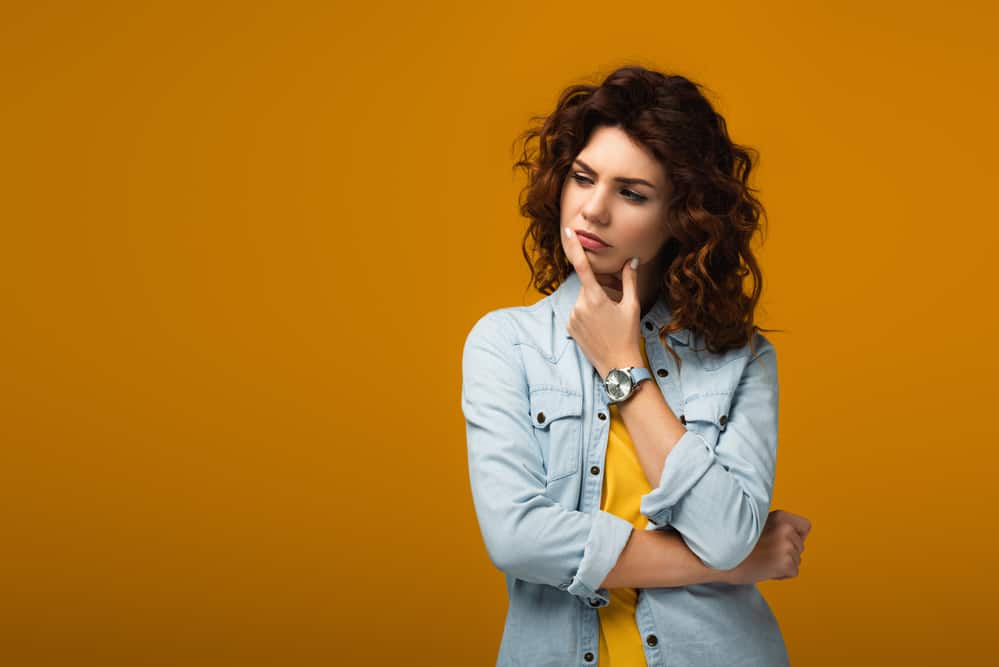 Another major difference between dip powder nails and polygel nails is the need to use an ultraviolet lamp to cure your nails.
Polygel nails require curing to harden properly, but dip powder nails are only made of base coats with powder to color them in between.
Some people may not like to use curing lights due to past experiences with heat spikes or having thin nails that are sensitive to heat.
Dip powder nails are the perfect answer for people who still want that salon-quality look to their nails without having to experience any burning pain.
Dip powder nails may also be the better option for those who get sunburns easily.
Some people are prone to get small sunburns on the tips of fingers that are exposed during the curing process necessary for polygel nails.
The ultraviolet rays used to cook your artificial nails onto your natural nail are also able to cook your skin, just like the sun.
With each sunburn, you're damaging your skin and increasing the potential risk of skin cancer.
In the same way that you don't need to be afraid of the sun, you don't need to be afraid of ultraviolet curing lamps either.
There are a few tips you can follow in order to have a safer curing process when getting polygel nails.
As enjoyable and relaxing as it can be at the nail salon, limit yourself to only a couple of times a month.
Weekly ultraviolet exposure that is focused on a small area of your skin can take a toll on the skin around your hands and lead to premature aging.
Applying sunscreen before you go to the nail salon is another great way to fight ultraviolet light exposure or you can wear thick fingerless gloves.
The Removal Processes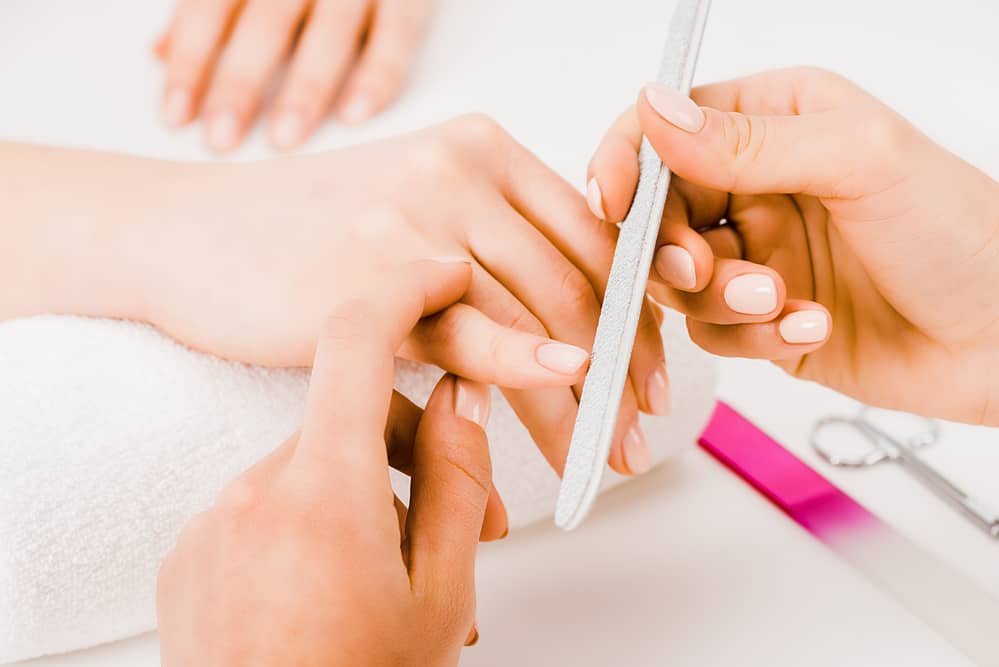 The removal process for dip powder nails and polygel is similar, but there are more ways for you to remove polygel nails than there are for dip powder nails.
Not everyone who loves nail art is able to use chemicals like acetone to get their artificial nails off.
The first step in removing dip nails is removing any length that isn't natural to your nails by using your nail trimmer and file.
Then use the coarsest side of your nail file to buff out the top coat.
The better that the top coat is removed, the easier it will be for the acetone to eat away at the lower layers of the dip powder nail, which means a shorter soaking time.
Before you begin to soak your fingers in acetone, put Vaseline or petroleum jelly all over your fingers to protect them from the harsh substance.
You'll know your nails are done soaking when you're able to gently push the outer layers of the dip powder nails off.
Gently buff your nails to remove any extra adhesive bits that may be clinging on.
Those who are comfortable using acetone to remove their polygel nails will find it's nearly the process of removing dip powder nails, but there are a few differences.
You can soak your fingers in a bowl of acetone, but most people prefer to use foils and cotton swabs to immerse their nails in acetone.
You can also remove your polygel nails with oil, detergent or body wash, hot water, and a cuticle pusher.
Lift the sides of your polygel nails up with the cuticle pushers and mix oil, soap, and the hot water.
Let them soak for 15 minutes and then they should slide off with a little pressure and the cuticle pusher.
The Health Risks Of Polygel And Dip Nails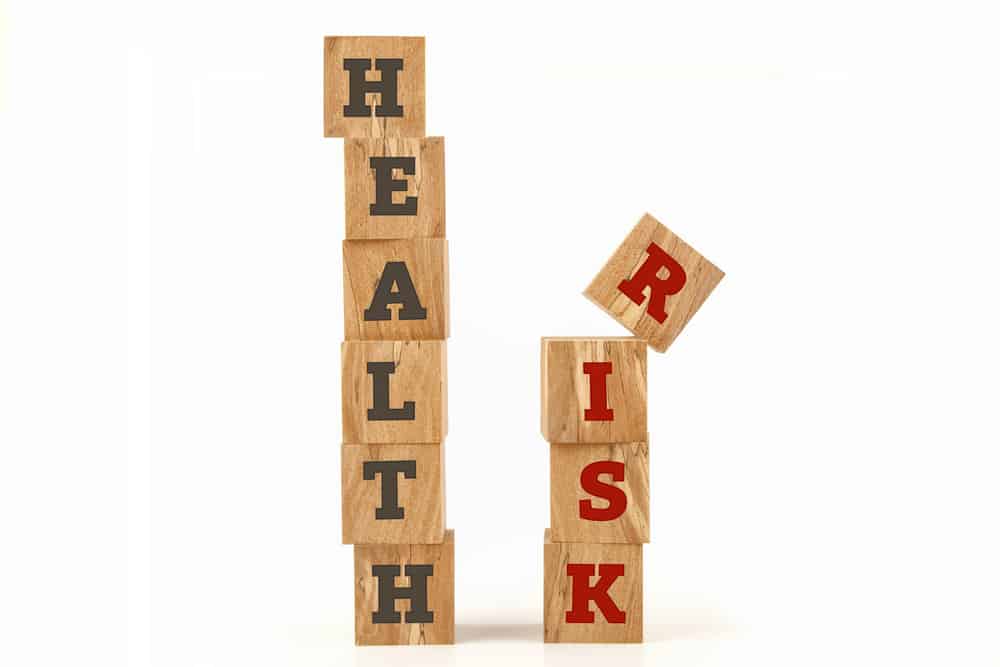 Both polygel nails and dip nails have their own risks involved in their use, with risk involving the application process, the removal process, or even what you don't see happening to your natural nail underneath the artificial nail you've chosen.
The biggest risk involved with dip powder nails is the high possibility for infection spreading from anyone who uses the product from the same container.
The only way to avoid the spread of bacteria or illness while using dip powder is to only use it once, even if you're doing your nails at home.
The safest way to reuse dip powder is to be the only person using the powder and wash your hands meticulously before applying any powder.
It is more sanitary to brush the powder onto the nail than to dip your finger, but sharing a brush between different people is still not a good idea.
It's incredibly easy for fungal infections, diseases, and bacteria to be transferred from person to person, even when rewashing the brushes.
If you want to be able to reuse your dip powder tools for multiple people, you're going to need to find an autoclave because they're the only things powerful enough to perfectly clean these tools.
While polygel nails are the safest nails for consumers to get, the issue with polygel is a bigger problem for nail technicians.
Polygels are still the most harmless artificial nails for nail technicians to apply, but their removal process poses some of the same threats as acrylics.
Nail technicians risk breathing in the tiny dust particles that fly into the air while buffing or filing down the nail.
Most nail technicians wear masks, but some particulars can still slip through.
This can lead to skin, respiratory, reproductive, and musculoskeletal problems over the course of years.
Polygel And Dip Nails Are The New Gel And Acrylic Nails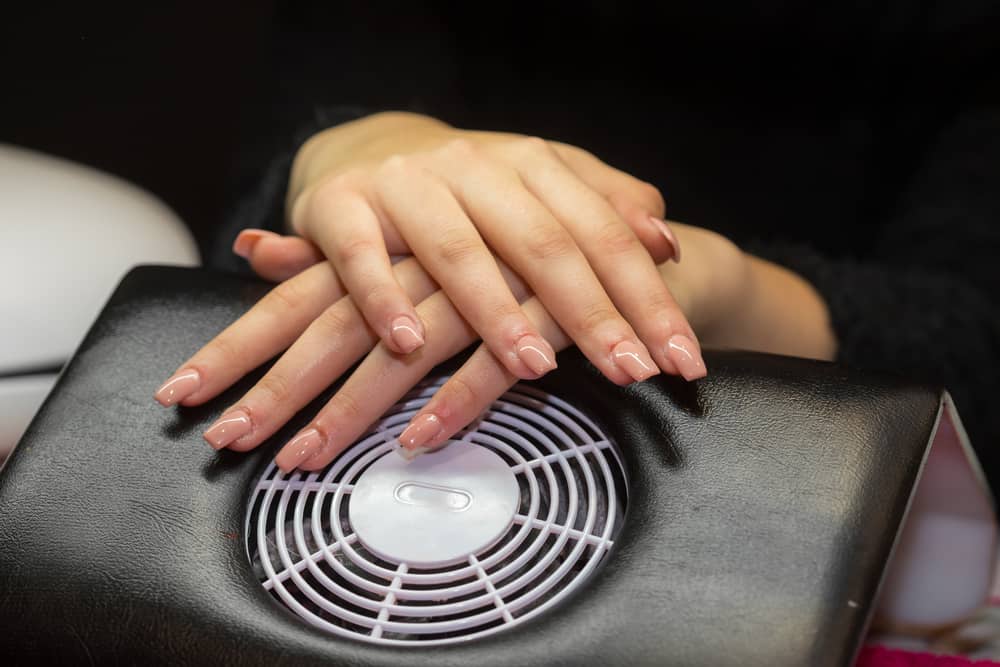 Dip powder nails and polygel nails have given many cautious nail art lovers new options to create the nails they always dreamed of having.
While polygel nails may be expensive, their price tag will most likely be reduced when the next newest nail enhancement comes out.
While dip powder nails or polygel nails aren't perfect, they are vastly better options for people who want the best of both acrylic nails and gel nails.
Each method has its own strengths and weaknesses when it comes to how easy it is to apply them, how easy they are to remove, and what they're doing to your nail and overall health.
For those who can afford to have their nails done at home with their own tools and product, dip powder nails are the safer and more affordable option.
However, they aren't as safe to have done at salons and require much more physical effort.
People who can afford the higher price tag of polygel nails or are skilled enough to do them at home by themselves should definitely choose polygel nails.
Polygel nails are causing the lowest amount of damage to your natural nail and are the safest for your nail technician to apply.